Street expects RBI to keep CRR unchanged, opt for open-market operations to ease liquidity
The buzz over a 50-basis-point rate cut in the annual monetary policy review on Friday is getting louder, with the broader macroeconomic parameters like inflation and global commodity prices moving in a favourable direction.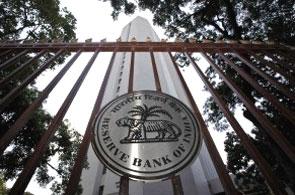 Bankers said the recent fall in global commodity prices, lower Wholesale Price Index (WPI)-based inflation, continued weak growth and a narrower trade deficit had increased the scope for a sharper rate cut than the earlier consensus estimate of a 25-bp reduction.
"Downside surprise in headline and core inflation, and softer commodity price outlook have offered the Reserve Bank of India (RBI) greater headroom for monetary easing. We expect another 50-bp repo rate cut during this quarter.
While a 25-bp cut on May 3 remains our baseline expectation, possibility of a front-loaded 50-bp cut has increased in recent weeks, reflecting softer inflation and commodity prices, and persistence of weak growth indicators," said Barclays Chief Economist Siddhartha Sanyal.
On expectation of a sharp rate cut, yields on government bonds eased around 25 bps in April. The yield on the 10-year benchmark government bond today fell to 7.73 per cent (intra-day) before ending higher, at 7.76 per cent, on profit booking.
Bankers, however, said only a repo rate cut might not have much impact on lending rates. Leading banks indicated they would be able to reduce lending rates if more liquidity was infused into the system, either using the tool of cash reserve ratio (CRR) - the proportion of deposits banks have to keep with RBI in cash - or through open-market operations (OMOs). Banks have been expecting RBI to take definite liquidity-infusion measures in its policy review.
State Bank of India Chairman Pratip Chaudhuri expects RBI to reduce CRR by 100 bps, following the "favourable developments" over the past couple of weeks. A 100-bp cut, Chaudhuri said, would release about Rs 12,000 crore for the bank, enabling it to reduce the base rate by 20 bps. SBI's base rate is currently at 9.7 per cent.
Despite a reduction of 200 bps in CRR and 100 bps in the repo rate since January 2012, the response from banks in cutting lending rates has at best been lukewarm. In the past 15 months, most public-sector banks have reduced their base rates by up to 50 bps. While SBI has reduced its rate by 30 bps, ICICI Bank and HDFC Bank have done so by 25 bps and 40 bps, respectively.
According to some market participants, while a CRR cut or OMOs would yield the same result, RBI might look to save the CRR tool for another day. Currently, CRR is at four per cent.
"In May, government bond auction would take place every week. The market will definitely cheer some liquidity support in the form of OMOs, if CRR is kept unchanged," said S V Venkatasubramanian, who heads the treasury operations for Andhra Bank.
In its previous monetary policy review, on March 19, RBI had reduced the repo rate by 25 bps and kept CRR unchanged, but it announced bond purchases via OMOs after the close of market hours.