Business executives are finally dusting off their long-unused suitcases to resume travel, thanks to a good vaccination rate, a drop in fresh cases, and an easing of travel restrictions.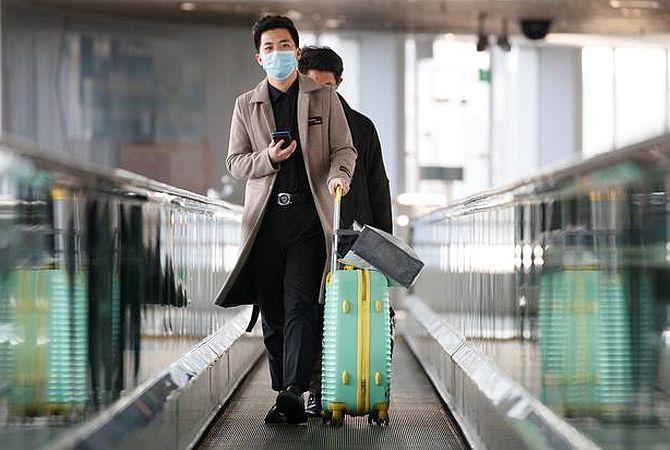 It comes as a huge relief for the ravaged aviation, travel and hospitality sectors.
"We are witnessing a 40 per cent recovery on pre-covid volumes from our business travellers, signalling the return of corporate confidence in air travel," said Indiver Rastogi, president & group head, Global Business Travel, Thomas Cook (India) & SOTC.
The demand, he added, is not limited to large corporate houses but includes the SME segment too.
Vinod Kannan, chief commercial officer at Vistara said that although a complete rebound in corporate travel is going to take some more time, Vistara has observed a marginal increase in demand in the last few months.
He attributed this to the vaccination drive, people returning to their workplaces and travel related to corporate events.
"We are hopeful of the trend leading to a return of demand for corporate travel to pre-covid levels," said Kannan.
According to the findings of a recent study commissioned by SAP Concur which offers integrated travel, expense, and invoice management solutions to businesses, over 78 per cent of Indians are eager to restart business trips - higher than the global average.
The study was based on a sample of 3,850 business executives in 25 markets globally.
A total of 327,923 passengers travelled on 2,372 flights within India on October 17, the highest ever since the beginning of the pandemic last year.
The winds of change are also sweeping through business hotels across the various categories.
"Corporate demand is showing good signs of recovery.
"It is evident from the performance of the Ginger hotels that has seen occupancy touch north of 80 per cent," said Puneet Chhatwal, MD & CEO, Indian Hotels, during a post-earnings investor call on Friday.
Bookings for conferences have also started albeit with restrictions in various cities.
"Every day we hear something that is helping corporate travel," said Chhatwal.
If the occupancy stabilises at a higher level, the ADR (average daily rate) too will recover, he said.
The ADRs at IHCL's luxury brands in Mumbai, Bangalore and Delhi have improved to Rs 8,000 in the September quarter from Rs 3,000 in the June quarter.
But it still lags behind the Rs 15,000 of 2019-20.
By and large, with the exception of IT, for companies in most sectors, particularly manufacturing, the trend has largely been confined to domestic business travel.
International business travel remains limited and is unlikely to get back to the pre-covid levels for some time yet.
Even domestic travel will be a lot more rationalised and unlikely to return to 100 per cent of pre-Covid levels.
"International business travel will be very slow to come back.
"I see people undertaking overseas trips only for the most exigent meetings.
"Even domestic travel will only be 60 per cent of pre-covid," said Satish Sharma, president, Asia Pacific, Middle East and Africa at Apollo Tyres.
Jayesh Desai, executive director of the Torrent Group, said domestic travel is back to pre-pandemic levels.
"Pharma firms typically do not have a lot of foreign travel as the local teams take care of the work.
"We are traveling to foreign locations if there is a need and according to the respective country's guidelines," said Desai.
IT companies have a different approach. With their markets in the US and Europe getting vaccinated fast, several Indian IT services firms have started international travel.
Analysts believe that, starting the December quarter of FY22, increased traveling will weigh on margins.
"Travel is opening up. We are already traveling to meet our clients.
"I have travelled to India and to Europe and I travel within the US.
"So, across the board, clients are also a lot more open to meeting in person," said C Vijayakumar, CEO and MD HCL Technologies.
At Tata Consultancy Services (TCS), though, travel for professional meetings is still not back to earlier levels.
"We are allowing travel only for those executives that have been fully vaccinated," said a spokesperson.
Currently, it's largely TCS's senior executives who are travelling to meet their extended teams or business unit leaders across India or in some cases across the world.
Richard Lobo, executive vice president, head HR at Infosys, said the company is looking only at 'business critical' travel for both domestic and international destinations. Infosys is allowing travel based on the covid situation in the respective country.
"We have seen a slight increase in travel bookings primarily to countries that have eased restrictions," said Lobo.
Hospitality firms in Bengaluru and Hyderabad, where occupancy in business hotels had plunged to below 30 per cent, have been the biggest beneficiaries of returning normalcy at the IT firms.
Sangeeta Mohan, director, asset management at SAMHI Hotels, said corporate traveller' occupancy in cities like Bengaluru has reached 60 per cent of 2019 levels, though the ADR remains 40 per cent lower.
Mohan expects the ADR to recover to pre-pandemic levels by next year.
She expects overall business travel to gain further momentum after Diwali as companies start getting employees back to the office.
"The recovery post the second wave has been very sharp.
"The demand is being driven by travel by the mid management level executives.
"SMEs have emerged as the new business segment," said Mohan.
With inputs from Aneesh Phadnis, Sohini Das & Aditi Diwekar
Photograph: Thomas Peter/Reuters