The Indian Textile Industry is one of the key and integrated industries in the Indian economy. It is the largest employer after agriculture. It employs approximately 35 million people directly and 50 million people indirectly. The industry accounts for approximately 14% of industrial production, 17% to gross export earnings and 4% to national GDP.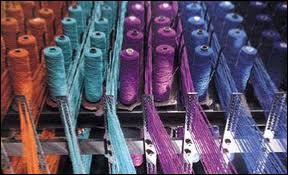 Textile industry can be segmented into Natural fibres and Man-Made Fibres (MMFs) based on use of basic raw material, cotton or crude oil derivate, respectively. Due to tropical climate, cotton is considered as preferred choice over MMF. Even though, cotton is the dominantly consumed fibre in India, the share of cotton in total fibre consumption has shown a decline over the years. It has declined from 74% in FY91 to 59% in FY11. The share of MMF is poised for higher growth and is expected to share 45% by FY17 of the overall fibre consumption pie by the textile industry, mainly driven by the limited availability & growth of cotton, increased blending and the huge price differential.

The demand for MMF from textile sector will largely be driven by the growing demand for clothing along with the augmented demand for the home textiles and technical textiles. The MMF industry can be classified into synthetic and cellulosic fibres comprising polyester, olefin, nylon, acrylics, viscose etc. Polyester alone accounted for approximately 82% of the total MMF consumption in FY11. The widening price differential between cotton and polyester and growth in use of non-cotton spun yarn and fabrics will drive the demand for polyester in India.

Raw material prices and availability play a crucial role in the MMF industry. Raw material cost contributes 75-85% to the total operating cost. The key raw materials used are Purified Terephthalic Acid (PTA), Mono - Ethylene Glycol (MEG) – for Polyester, Caprolactam – for Nylon and Rayon Grade Wood pulp –for Viscose.
Up to the latest available statistics, India has total capacity of 1.76 million tons of Synthetic fibers and 2.19 million tons of Synthetic yarn at end of 2011. Polyester dominates the MMF sector with 67% share in the fiber capacity and 94% share in the yarn capacity. Polyester was followed by Viscose with 24% share in the fibers capacity and 3% share in the yarn capacity.
According to the statistics, the production of Man Made Fibre increased by 5% to 107 million kg during November 2012 due to increase of which polyester staple fiber grew to 70 million kg over 68 million kg production during November 2011. On the other hand MMFY production during November 2012 decreased 48.4% to 109 million kg of which PFY (Polyester Filament Yarn) production declined by 10% to 101 million kg in November 2012.

The total production of man-made fibre recorded an increase of 3% to 846 million kg and filament yarn remained the same (955 million kg) during the year April- November 2012. The percentage in production of polyester staple fibre increased by 2%, acrylic staple fibre increased by 2% and viscose staple fibre increased by 6% during April – November 2012 respectively as compared to April – November 2011.
With a view to promote the MMF Sector and provide impetus to promote exports CITI (Confederation Indian Textile Industry) have put forward the following recommendations to the finance ministry for the consideration before upcoming Union Budget 2013/14.
Industry Recommendations:
• The duty on man-made fibres and their raw materials may be reduced to 8% from the current 12%.
• Abolition of customs duty and special additional duty on man-made fibres as it would help the industry to source fibres from global markets during the time of shortage or a sharp increase in domestic prices.
• To increase the exemption limit for service tax to Rs 15 lakh from the current Rs 10 lakh. Besides, it has demanded reduction in rate of service tax to 10 per cent from 12 per cent to lessen the burden on the industry.
• Suggested to convert the mandatory duty of 12% on branded garments and made ups to 8% optional duty.
• Customs duty on Titanium Dioxide (TIO2) and Spin Finish Oil may be reduced to 5 percent. Currently, 10 percent duty applies to TIO2 and 7.5 percent to SFO. These are consumables for production of manmade fibers and filaments and mainly come through imports. Reduction of duties would make fibers more affordable to the industry.
Companies to Watch:
JBF Industries, Reliance Industries, Century Enka, Indorama Synthetics, Garden Silk Mills, Grasim industries, Aditya Birla Nuvo, SRF etc
Outlook:
The textile industry, including cotton textile producers, exporters and the apparel exporters have sought reduction in excise duty on Man Made Fibres from 12% to 8% optional excise duty, to ensure parity along with cotton textiles. With the cost of production going up in China, man-made fibre-based textiles industry of India has an opportunity of opening up for expansion of its market share, if competitive raw materials can be ensured. The reduction in the duty for raw materials such as PTA, MEG and DMT is necessary to avoid an inverted duty structure once the duty on fibres is reduced.
And also, land to cultivate cotton is going to fall, with the same land competing with other remunerative food crops and water consumption across the whole cotton textile value chain is also very high. This puts a question mark on long term viability and prospects of the production of the natural fibre. Man-made fibres will also be in very good demand from the burgeoning technical textiles sector.