Analysts suggest making separate firms of tobacco, hotels and FMCG divisions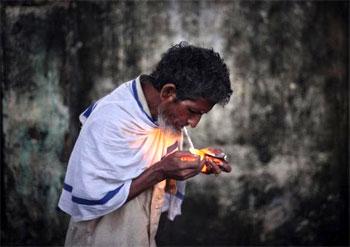 Making it one of the biggest losers post Budget, tobacco-to-hotel major, ITC has lost 13 per cent of its market value or Rs 40,428 crore (Rs 404.28 billion) since Budget Day due to a sharp rise in excise duties on cigarettes proposed by the Finance Minister Arun Jaitley.
Analysts say the proposed duty hike will shave off 5 per cent of its earnings per share in the fiscal 2016-17 and have unanimously downgraded the company's stock. ITC's shares closed 5 per cent down on Monday at Rs 343 a share.
According to an analyst with Kotak Institutional Equities, ITC's cigarette volume growth was in negative territory for the past 7 quarters, as continued price hikes have taken a toll on its volumes.
"Even as we expect the volume trajectory to improve from the 14 per cent decline reported in the December 2014 quarter, we believe cigarette-volume-growth trends will remain negative for at least another 3-4 quarters before base effect kicks in and price hikes get absorbed," Kotak analyst Rohit Chordia said in a note on Monday.
According to Elara Capital, this is the fourth year in a row of a sharp rise in excise, after a 20 per cent annual increase for the past three years. "These, along with other non-tax measures, give us a sense that the government has a clear intent to curb cigarette smoking during its term in office," said an analyst with Elara Capital.
An analyst with Prabhudas Lilladher warned the rise in excise duties will lead to severe pressure on volumes and profitability for ITC.

A partner with one of India's top auditing company suggested the company should look at demerging its consumer products and hotels businesses into separate companies with the parent retaining its farm and paper board business, to unlock value for its shareholders. It will help investors who want exposure in any one or more businesses, he said asking not to be quoted.
When contacted, a ITC spokesperson declined to comment on the demerger suggestion.
Of its Rs 49,247 crore (Rs 492.47 billion) annual revenue, ITC earned Rs 30,417 crore (Rs 304.17 billion) from cigarettes and made Rs 10,419 crore (Rs 104.19 billion) of profit from here, making it the company's cash cow.
The fast moving consumer goods (FMCG) and hotels businesses earned Rs 12 crore (Rs 120 million) and Rs 146 crore (Rs 1.46 billion) of profits on revenue of Rs 8,128 crore (Rs 81.28 billion) and Rs 1,200 crore (Rs 12 billion), respectively. The farm and paperboard business is another vertical, generating substantial revenue and profit, and can be listed separately, said the analyst.
In January, Adani Enterprises had announced a proposal under which the holding company's stake in port and power businesses was rejigged into three companies. As per the scheme, SEL shareholders got shares directly in the port and power businesses. This resulted in the re-rating of all the three companies, with share prices of all the three going up after the proposal.
With inputs from Ishita Ayan Dutt