Move to help India export hi-end vehicles to developed markets like US, Europe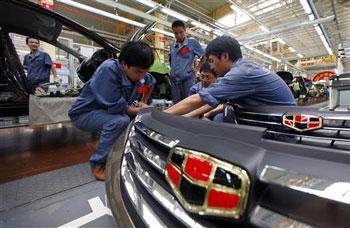 The automobile sector has urged the central government to de-license several radio spectrum bands between 314 megahertz (MHz) and 81 gigahertz (GHz) for a range of vehicle applications, from keyless entry systems to global positioning systems and car-to-car communication.
The move, it says, will help it locally develop and export premium vehicles to developed markets such as North America and Europe, in line with Prime Minister Narendra Modi's Make-in-India campaign.
"The automotive sector requires a large number of radio frequencies. Considering the worldwide harmonisation of the radio frequencies, the Society of Indian Automobile Manufacturers (Siam) would like to file the entire range of radio frequencies required for de-licensing for automotive applications," the Siam said in a letter to the department of telecommunications (DoT) on June 24 last year.
Budget 2015: Complete Coverage
Siam had written to DoT after the International Organisation of Motor Vehicle Manufacturers (OICA) and European Association of Automotive Suppliers (CLEPA) wrote to the DoT on June 4 on the same subject.
A second letter sent on December 12 by Siam, which was also marked to the Union ministry of road transport and highways, repeated its position, and asked DoT to hold discussions on the subject with all stakeholders.
A sector executive says car makers face a major challenge in India because these have to seek a licence every time these import vehicles with such technology.
"Right now, we do not have the frequencies available for both testing and exporting high-end vehicles for developed markets. Seeking a temporary licence is very cumbersome," he said, adding that if such rules were not amended, India's dream of becoming a car manufacturing hub may not become a reality.
Radio frequency allocation falls under the country's National Frequency Allocation Plan, governed by the DoT. By industry sources, the government in September 2012 de-licenced only the 433 to 434 MHz band for use in applications like keyless entry and engine immobilisers, but the industry has asked for frequency up to 434.79 MHz for this. For terrestrial transmission, usable frequency is largely below 3 GHz.
Telecom sector officials feel this is a small issue and the government should not have any problem granting the auto industry access to the airwaves. "These airwaves do not collide with the industry as they do not overlap with commercial applications of spectrum," he said. Many premium car makers like Mercedes-Benz, Audi and Volvo currently provide several features like radar-based automatic braking, lane detection system and 'Magic body control' suspension, but these technologies are often excluded from the same cars models sold in India.
Budget 2015: Complete Coverage
Much of these technologies, especially safety features, are now trickling down to the mass car segment as well.
Spectrum bands and their automotive uses
Now, seeking a temporary licence is cumbersome
24.05-81 GHz
Blind-spot detection, lane departure prevention system, collision avoidance system, adaptive cruise control
22-29 GHz
Automatic start/stop technique
5.9 GHz
Car-to-car, car-to-infrastructure communication
1.602 GHz
Global navigation satellite system
1.575 GHz
Global positioning system
868.10 to 868.40 MHz
Short-range communication, keyless on/off
433 to 434.79 MHz
Remote keyless entry, tyre pressure monitoring system (TPMS), immobilisers, keyless go
314 to 315 MHz
Remote keyless go, TPMS