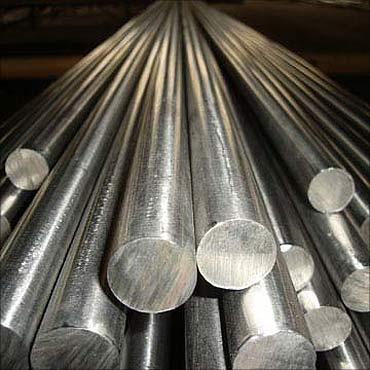 The domestic steel companies such as SAIL and Tata Steel are likely to increase prices by about Rs 600 a tonne on account of the increase in excise duty in the Budget.
"With two per cent increase in excise duty, steel prices in the country may go up by Rs 500-600 per tonne," SAIL chairman S K Roongta told reporters at a FICCI conference in Mumbai.
JSW Steel director sales and marketing Jayant Acharya said the hike in duty will impact only certain project-based consumers since other user industries will get it refunded.
Another private manufacturer Jindal Steel and Power Ltd (JSPL) maintained the increase would have to be absorbed by both the consumers and the steel makers.
"It will be difficult for the industry to pass on the entire amount to the consumer. I think the consumers and the the steel manufacturers have to jointly absorb about Rs 600 a tonne hike," JSPL director Sushil Maru said.
VISA Steel chairman Vishambar Saran said, "Steel prices will have to go up by about Rs 600 a tonne otherwise steel industry would have to suffer."
Steel prices are already witnessing an upward trend on account of an improvement in demand from sectors like realty and automobiles.
"With government's emphasis on the infrastructure sector, the steel demand is bound to improve further," Roongta said.
Domestic steel prices are in the range of Rs 26,000-37,000 a tonne.
Essar Steel executive director Vikram Amin said, "The focus on infrastructure spending, allocation of funds for railways and highways, emphasis on power sector, focus on rural, urban development augurs well for the steel industry."
Steel prices are likely to rise further in the months to come due to rising input costs. "Any increase in input cost will have to be passed on to the consumers," Roongta added.
The Budget includes a proposal of levying a cess of Rs 50 on per tonne of coal, this move is likely to make the dry fuel dearer for consuming industries like steel.
The domestic steel firms have increased prices of their products by up to Rs 5,000 a tonne in the past two months, raising inflationary concerns and prompting the government to term the price hike as speculative.
". . .there is also an increase in the prices of fuels in the country. All this will add a pressure to the inflation in the country," Roongta added.
Ernst and Young Partner Naveen Vohara said, "Domestic steel firms will not hesitate in passing the 2 per cent hike in excise duty or around Rs 600 a tonne to the consumers as the demand for the commodity remains strong."
But, he maintained the affect of the proposed cess on coal would be marginal.
<IFRAME src="http://pages.rediff.com/promote/Budget-2010/10567?bg=ffffff&amp;orientation=badgepreviewH" frameBorder=0 width=222 scrolling=no height=82></IFRAME>