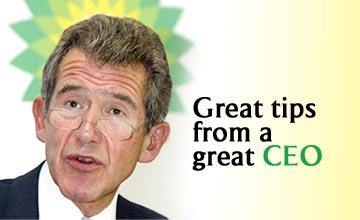 Because of Britain's participation in the war on Iraq, BP (formerly known as British Petroleum) will almost certainly be one of the biggest beneficiaries of the post-Saddam Hussein era. Other oil majors are already jostling for the best contracts in this oil rich country. Heading BP at this critical juncture in its history is Sir John Browne.
We bring to you an article by late Sumantra Ghoshal and Lynda Gratton. Prof. Sumantra Ghoshal was a world-renowned management guru. Dr Lynda Gratton is Associate Professor of Management Practice at London Business School and considered one of the top 50 strategic thinkers in the world.
Lynda Gratton and Sumantra Ghoshal profile this unusual CEO and his remarkable management philosophy for The Smart Manager.
---
Lord John Browne is a 'one company' man. He joined BP as a young graduate; the 54-year-old has been its CEO since 1995. Under his leadership, the company, formerly known as British Petroleum, has grown to become the third largest oil major in the world, with annual revenues of $178.721 billion in 2002, serving 10 million customers daily, and employing 100,000 people in over 100 countries.
The pace has been particularly scorching over the past couple of years with a series of mergers and acquisitions, which put BP in the super weight category, trailing behind only Royal Dutch Shell and Exxon-Mobil.
Browne led BP through two critical and successful mergers totaling $120 billion, first with Amoco in 1998 and then with ARCO in 1999. With its acquisition of Burmah Castrol in July 2000, BP became a combined group with a market value of more than $200bn. While achieving scale, these mergers also created a large, fragmented company.
A new management philosophy
By 2000, the company consisted of three camps, divided by their very different heritages: approximately 60,000 from BP, 40,000 from Amoco and 20,000 from ARCO. BP's management had to decide how to bring together their diverse strengths into a single new business. Sir John Browne explained the core premises on which the management of BP based its responses to this challenge:
"The organisation that we evolved from 1995 onwards was founded on several simple concepts. Number one was our observation that people work better in smaller units, because the closer you can identify people to objectives and targets, the better things happen. So we started off with what we came to call the 'Atomic Structure', so that the big, long term targets of the company could be divided up and deployed into smaller units that could take full ownership of these targets. . . "
". . . the second premise was contradictory to that, and that was our observation that any organization of scale could create proprietary knowledge through learning. So the question was how could you get independent atomic units to work together to share information, to learn and to retain that learning. . . "
". . . the third theme we observed was the very different interaction between people of equal standing, if you will, when they reviewed each other's work, than there was when a superior reviewed the work of a subordinate. We concluded that the way to get the best answers would be to get peers to challenge and support each other, than to have a hierarchical challenge process."
". . . the fourth organisational element was very much oriented towards the strategic and operating foundation of the company, in a pure business sense. You could have strategic aims for each business segment, and it could all be translated into targets, but there had to be more to it. That more had to do with the company, as a whole, so we focussed on something called reputation."
Atomic structure
Browne's starting point was the need to weld the disparate parts together as one company with a coherent overall strategic direction, one share price and one set of metrics. That was the only way to extract the benefits of the synergies and to make the whole something more than the parts.
At the center of this integration were the 400 men and women who collectively led the enterprise. Leading this group were the six managing directors, who had total, collective responsibility for the policy of the enterprise. This group formally meets in weekly meetings to review and gather experiences.
Informal dialogue within the team is high. Leaving this group intact, Browne worked on the next level, i.e. BP's 40 group vice presidents and 150 business unit (BU) heads to create performance leaders at various levels of the organisation.
Developing performance leaders: Today, the top team manages the firm's external relations, particularly with governments, engages in debate regarding long term strategic meaning and purpose. Meanwhile, the role of the group VPs who oversee large pieces of the business has been extended to coaching the BU leaders, managing the succession process and making sure that each BU head has a performance contract which is both achievable and had stretch.
Horizontally, the BUs who are responsible for the delivery of operating performance, were organised into 15 peer groups. The peer groups are a network of related BUs within a particular business stream -- essentially those in a similar business -- facing similar challenges.
Group VPs are personally accountable for the performance of the sum of their business units. Previously, in order to integrate the leadership cadre, they had all been located in London. "That worked," says Browne, "but actually in a decentralized model, senior managers should be out there with the business units to build relationships."
So he distributed the group VPs around the world -- as presidents or regional directors in the USA, in Asia, in Latin America and so on. "Now they have both business and regional accountability. They have a specific remit, and they are the face of the company."
At the heart of this change is an acknowledgement of the regional role as an enabler of organic growth. "It is not completely clear to me," says Browne in a marvellous example of British understatement, "that the business goals of the corporate and the goals of the government are automatically aligned without a lot of effort. You can say to them you want them to work five times harder and they will say why? So that you can bring in imported equipment and take out the money?"
"Take the case of Trinidad," he continues, "I have heard this time and again from Prime Ministers and Presidents there. They used to be a big producer of sugar, and they couldn't afford to buy the boiled sweets that were made in the UK. . ."
"We have a gigantic amount of gas in Trinidad, and we have to think and we have to do several things. We have to work with the government to build capacity. Our role is very much recruitment and training of people -- we are less good at doing what governments should be doing, such as building roads. Number two, we need to work with them to expand the number of small and medium enterprises in the country. . . build things with other people who will use some of that gas. . .  We are going to be a part of all that investment, not exclusively, but our reputation and the fact that we will be there and making sure the project works will allow other people to come in and invest. This is good news for us, because they will use the gas, and it is good news for the government. We have to build this mutuality."
To build this mutuality, BP needs strong local relationships. "It would be extraordinarily unwise to continuously go to a government, flying in from London, saying I need the following things. You need someone who can set it in the context and say the company is doing this, and this is where the mutual advantage is." This is the enhanced role for the Group VPs - thereby opening doors for the BUs so that they can effectively do their work to grow the business.
Designing a performance culture: Accompanying the company's reorganisation was a focus on improving core functional competencies.
For example, explains Browne, "We believed that greater emphasis was needed for enhancing our marketing skills, and understanding the differences between marketing and sales. That difference is now put in real organizational terms, so for the first time in the company's history, we have a marketing director and she is in charge of the strategic side."
Similarly, the technology group was given full accountability for the strategic goals and targets in the areas of technology development, and for deployment of people. "We have to focus heavily not only on how we retain and deploy people in this area, but how we continuously renew the quality of people because this is a very fundamental part of our functional capability," says Browne.
The highly fragmented internal supply and trading organisation was also consolidated into one entity, with the goal of stopping internal transactions and to leverage scale.
According to Browne, "It is certainly true that returns to supply and trading increase with scale - they just do and you can prove it - and we have reached such a scale that we had to consider that benefit. But equally, your reputation is highly dependent on how you use that scale, especially in unregulated markets, and that worries us a lot. In unregulated markets, these decisions of judgment are critical to the reputation of the firm, and that is something that has to be done in one place."
While describing these changes, Browne emphasizes BP's fundamental philosophy about organizing. "The thing about organization is nothing is ever fixed, at least in BP, and we renew ourselves by learning what is good about the past and changing all things that are not so good."
"They are behaviour-dependent. Grouping the group vice presidents in London to make them into a team so that they knew each other, and could interact among themselves in a way that made the peer groups effective -- that worked. I believe that investment will endure, and now we can send them outside London."
"In three or five years time, we may have to change again because it might become silo-like, and we might think that the best way would be to bring them all back to London or New York, or try something completely different."
Collective learning: If performance management is the foundation, then relentless collective learning is the leverage point. "In order to generate extraordinary value for shareholders, a company has to learn better than its competitors and apply that knowledge throughout its business faster and more widely than they do," says Browne.
"Any organisation that thinks it does everything the best and that it need not learn from others is incredibly arrogant and foolish." This commitment to knowledge and insight is now deeply ingrained in BP.
Building theories: While Browne's appetite for knowledge is insatiable, he himself is a creator of knowledge -- a sort of theory builder relentlessly engaging his top team in discussions around ideas.
"This company is founded on a deep belief in intellectual rigor. In my experience, unless you can lay out rational arguments as the foundation of what you do, nothing happens. Rigor implies that you understand the assumptions you have made . . .  assumptions about the state of the world, of what you can do, and how your competitors will interact with it, and how the policy of the world will or will not allow you to do something."
Asked to describe some of the strategic issues discussed in the top management team, Browne elaborates, "We look at economic history, the rate of change in capital intensive industries and we ask ourselves how we think the oil industry will change as a result of transportation changes . . .  based on what happened, for instance, when canals were put in the UK in the late 18th century."
"We think about these long-term trends, and what are the consequences of doing the business we are doing, and how we can manage these consequences. Those consequences matter. Environmental questions related to burning oil and gas influence supply and demand parameters of oil and gas because if people worry about that, then they inevitably change their attitude about how they get their energy . . ."
"We test our assumptions . . .  What is really going to happen. Could the price of oil drop below $10 a barrel over the medium term? Unlikely, but what happens if it does? We think about how technological substitution in the short term will work. . .  the main point is that all these things we keep interrogating and asking ourselves how dependent are we on one or the other of these factors."
Purposeful conversations: People learn and share learning through conversations. At BP, management explicitly focuses on enhancing the depth, breadth and quality of conversations at all levels, as a means to supporting organisation-wide learning. This is done through two means: linking conversations to purpose, and legitimising dissent and challenge.
"People do not learn, at least in a corporate environment, without a target. You can implore people to learn, and they will to some extent. But if you say 'look the learning is necessary in order to cut the cost of drilling a well by 10%,' then they will learn with a purpose."
This philosophy is built into BP by linking as many conversation processes as possible to tangible and concrete goals. Peer assists and peer reviews, performance contracts -- they are all primarily aimed at developing intense, purposeful conversations, driven by concrete goals and targets.
The other basis of enhancing the learning value of conversations is to legitimise dissent and challenge.
"People are challenged the whole time. 'Just run that by me one more time' is the minor challenge. 'I don't understand it' to 'Surely you've got this wrong' to 'No, that is far too conventional and we have to think of a different way' - the discussions, debates and challenges happen everywhere. I participate in it; everyone participates in it. . ."
"Sitting in the management committee, sometimes it gets very hot indeed . . .  Take another example, Rodney [Chase, his deputy] and I have worked together since 1984, and we have worked close up through the ranks and it is a very close relationship. You would think we would be so familiar with each other that we would know the way each other thinks, but it is actually the reverse. We challenge each other very hard, in a very appropriate way, but it is the purpose of the relationship to get a better result, and we do that. And that, in turn, encourages others to do that."
Nurturing human capital: Everyone in the management committee typically coaches between seven to ten Group VPs. Chase describes how he sees this role.
"I gossip with them about what is really going on within the inner cabinet, I share confidences, I tell them about my discussions with John Browne. I build trust with them. I agree with them what their weaknesses are, and agree to work with them. You have to take the time to engage them with examples that will make them broader and wiser."
"To develop their sense of responsibility for the firm; who are they developing. The greatest pleasure I get is from this development of talent."
In turn, the group VP coaches the BU heads. A subgroup also sits on the learning and development committee, which meets monthly to discuss the long-term development of key talent. Other HR processes include peer assist, where BU heads can request help and insight from other heads; and the 'Turtles' programme, a one year learning-on-the-job position where potential leaders shadow top management.
Meanwhile several Intranets offer multiple self help tools.
A force for good
The fourth part of Browne's vision -- building reputation -- is viewed in terms of being a force of good. "There is, I believe, no conflict between investing in reputation and creating long-term shareholder value," he says.
The primary benefit of reputation, however, lies in building the emotional strength of the organisation. As he describes, "The interesting thing about the behavior of this firm is that we always start with the foundation of rationality but we recognize that that in itself will not take you far. What you have to apply on top of it is an emotional state."
Emotional strength: "It is easy to detach the employees from a company. A company is pretty impersonal and artificial, and it produces continuous contradictions which have to be resolved."
"We have the contradiction that we produce oil and gas, and we want to reduce the impact of that on the environment. The question to us is how do you genuinely allow people to transform all their individuality into the company because if they can do that then people will begin to think and behave in a way that is aligned to the goals of the company."
"To build the reputation, we picked four areas. First, safety: when you invite someone to come and work, you should send them home in the same shape as when they arrived - that is a minimum requirement for respect of a person, and you have to take that terribly seriously."
"Second, you have to take care of the natural environment. It is important because people do not want companies to make a mess and leave them behind. Third, everyone wants a place in the ideal, which is free of all discrimination; it doesn't matter what you stand for in terms of your race, gender, sexual orientation or religious beliefs. All that matters is merit."
"Fourth, the company has to invest in the community from which the people have come, so as to narrow the gap between life within the company and life outside the company."
Standing by convictions: In a show of commitment to these goals, Browne took an unusual and risky stand in a May 1997 speech regarding climate change at Stanford University. He admitted that global climate change was a problem that BP could no longer ignore and outlined BP's plans for addressing the problem.
"The time to consider the policy dimensions of climate change is not when the link between greenhouse gases and climate change is conclusively proven but when the possibility cannot be discounted and is taken seriously by the society of which we are part. We in BP have reached that point. . ."
"To be absolutely clear -- we must now focus on what can and what should be done, not because we can be certain climate change is happening, but because the possibility can't be ignored. If we are all to take responsibility for the future of our planet, then it falls to us to begin to take precautionary action now."
The steps Browne outlined were to control BP's emissions, to fund continuing scientific research, to take initiatives for joint implementation, to develop alternative fuels for the long term, and to contribute to the public policy debate in search of the wider global answers to the problem.
BP officially removed itself from the Global Climate Coalition, a lobbying and public relations organisation based in Washington, DC, which opposes government intervention with regard to the climate. BP struck up an agreement with the Environmental Defense Fund to design a system for trading greenhouse gas emissions within BP.
In this system, revenues and costs of carbon trades were treated like actual cash flows, which allowed BP to measure environmental performance as financial performance. These actions were part of the company's increasing concern with being progressive and green -- in other words being a force for good.
A year later, in April 1998, BP began to receive recognition for its bold moves. The Tulsa-based Oil & Gas Journal highlighted BP in a review of financial strategies of the top oil and gas companies.
"Within the top 10, there is one striking example of a company being driven by a different vision. BP has designated corporate citizenship and being 'forward-thinking about the environment, human rights, and dealing with people and ethics' as 'the new fulcrum of competition between oil companies in the late 1990s.' Several of the other leading companies have adopted parts of this approach, with Shell probably going the furthest. But none has been as explicit or committed as BP."
Challenging the future: At the same time, in an industry characterised by an old boys network spanning the major oil companies, this move was met with surprise and hostility. Some of the skeptics and the press said, "He has left the church. He is no longer with the industry."
Was this change enough, or even right, as a response to the challenges and questions? Browne is slightly philosophical in his reply, "Some of our competitors do not have a good reputation. Yet they trade at a higher multiple than BP. Does reputation matter? If you were from Mars, would you not say that those with worse reputations are valued more highly?. . .  This debate which still goes on is about deep-seated values. Recruitment, motivation, great place to work . . .  these should all in theory be expressed in market value at the end, but in practice may take more than one period to do so. But, in the end, I firmly believe that the more a company reflects the values of the society from which its people are drawn, the better the company is."
Browne's stand has placed BP in a distinctive position in its industry. As he points out, "However big Shell, Exxon-Mobil and BP are, together they control only 9% of the world's oil production. This is not exactly market dominance. The rest is controlled by different versions of state-owned organisations. We are looking at how the interface is changing, and as you see what is happening in China and in Saudi Arabia, you recognise that that interface is changing. Who will get to do what? Will states do things themselves or will there be some new partnership?"
Photograph: Yuri Kadobnov/AFP/Getty Images
Design: Uday Kuckian

Powered by
Published with the kind permission of The Smart Manager, India's first world class management magazine, available bi-monthly.