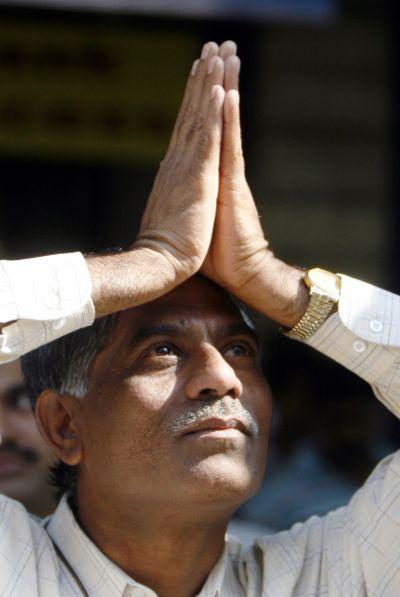 Investor wealth of BSE-listed firms on Thursday slipped below the crucial Rs 100 trillion mark as the benchmark index lost 654 points.
At the close of today's trading session, the total BSE market cap stood at Rs 99,66,783 crore (Rs 9,9667.83 trillion).
Rising geopolitical tension in the Middle East spooked domestic markets on Thursday with benchmark Sensex plummeting 654 points, its biggest daily fall in nearly three months, to close at 27,457.58.
As many as 26 of the 30 Sensex stocks ended the day in the negative territory.
The 30 Sensex companies alone, which are among the biggest companies in the country, now account for nearly 50 per cent or about Rs 44 lakh crore (Rs 44 trillion) of total investor wealth.
BSE is among the world's ten largest exchanges in terms of market value, while it is the biggest globally for number of firms listed on its platform.
It has over 4,000 actively traded companies and nearly 2.7 crore investors trade on it. The total market valuation of all listed firms at the BSE had hit a record high of Rs 100 trillion in November 2014.
The total market cap has more than doubled in the last five years from Rs 50 lakh crore (Rs 50 trillion) in 2009, while it has grown ten-times since first scaling Rs 10 lakh crore (Rs 10 trillion) level in 2003. Analysts said across-the-board selling on the last day of monthly derivative contracts, sluggish global cues and surge in oil prices also pulled down markets for the seventh straight day.
Selling was broad-based as 11 out of 12 sectoral indices closed lower. Only capital goods index escaped the bloodbath.
On BSE, two stocks fell for every one that rose as 1,822 scrips ended in the red while 979 advanced.
Image: An investor gestures with folded hands towards the Bombay Stock Exchange building while watching a large screen displaying India's benchmark share index in Mumbai.
Photograph: Arko Datta/Reuters