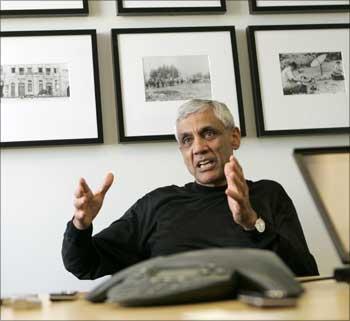 Venture capitalist and Sun Microsystems co-founder Vinod Khosla's daughter, Nina Khosla, was victimised by her ex-boyfriend, who threatened to publish her naked photographs online as part of an extortion plot.
Douglas Tarlow, 27, was arrested by the Federal Bureau of Investigation after a complaint was formally filed by federal agents in the Federal Court in San Francisco in March.
"Yes, we did make an arrest. He (Tarlow) was arrested in Ohio last week," Peter DLee, media spokesperson, FBI, told Rediff.com. "The suspect will be making his court appearance here in the Northern District of California. This is a federal case because there is a multiple interstate nexus and that constitutes a federal crime."
According to documents with the US State District Court Southern District of Ohio, Tarlow was arrested April 18. He appeared in the District Court of Ohio and on the orders of Magistrate Judge Norah McCann King, he surrendered his passport. Tarlow is not in jail.
William Bastone, editor, Smoking Gun, which broke the story, told Rediff.com that he spoke to Nina, but she declined to answer questions about the case.
'I'd prefer that you didn't write about that,' she told him, adding that her family had contacted law enforcement soon after receiving threatening communications.
According to the court documents, Tarlow, a StanfordUniversity graduate, met Nina in 2007. In 2009, Nina voluntarily sent him her nude photographs through e-mail and instant messenger.
The relationship ended in 2010. Despite that, Nina's mother Neeru, founder, CK-12 Foundation, hired Tarlow in July 2011 on an annual salary of $125,000, but his contract was terminated in February 2012.
The suspect allegedly started blackmailing Nina on September 3, 2012, when he sent her a text message, containing her photographs. He wrote, 'Shall I call you Paris?'
According to the affidavit, he also sent the photographs to her mother, saying, 'It seems you're going to be the mother of the next Paris Hilton.'
He also told Neeru that she owed him $72,000 from his tenure at the company, the report alleged. The blackmailing continued for more than a year. Tarlow allegedly threatened that he would post the photographs on Reddit.
He kept sending the duo photographs until the FBI arrested him.