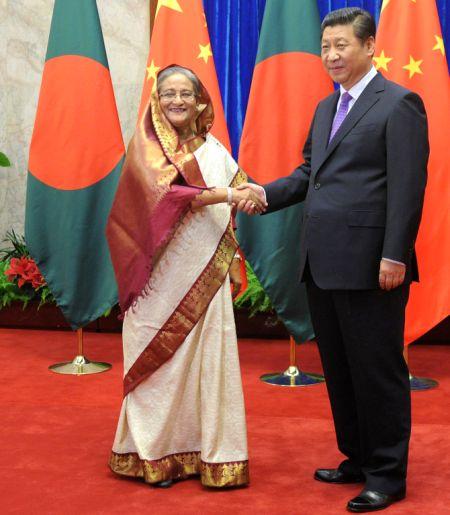 'Either China is building regional transport infrastructure long before it needs it, or this is in a chain of Chinese investments with more strategic than economic intent,' says T N Ninan.
So, Xi Jinping has visited yet another South Asian capital and opened a box of investment goodies.
Bangladesh has been offered $24 billion in loans.
18 months ago, Pakistan was offered $46 billion in loans and private investments.
Earlier, Sri Lanka was the recipient of Chinese investment in two port and related projects. The sums are outsize for what are at best medium-sized economies.
Somehow, though, the gap between initial investment promise and eventual reality is big. As the old line goes, 'Beware of Greeks bearing gifts.'
Sri Lanka found out first. The Hambantota port that the Chinese financed became known in the initial years as a port without ships -- even as loan repayments clocked in.
Government subsidies and special dispensation became necessary. Then, some Colombo port projects, also handled by the Chinese, became an election issue because of the terms that had been signed up.
The operative part, though, is that the Chinese have dug in.
Then, last year in April, a visiting Xi announced the China Pakistan Economic Corridor -- road, rail and pipeline connections from Gwadar port just off the mouth of the Gulf, all the way up Pakistan and over the Karakorams, to Kashgar -- as well as multiple power projects.
There has been much talk of the package being a game-changer for Pakistan.
But most of the massive bill of $46 billion is to be private Chinese investment, which the Pakistanis have discovered comes with guaranteed rates of return.
Budgetary allocations so far have been niggardly, as wisdom dawns.
The Gwadar port itself has strategic value for both China and Pakistan, but as a transport hub for shipments inland to China it is a pipe-dream.
The Karakoram Highway was virtually non-operational after a 2010 landslide created a massive lake that took more than five years to tunnel around; there is no reason to think that there will not be any landslides in the future.
Even otherwise, hardly any goods traffic moved on the road; more than 90 per cent of Pakistan's very limited trade with China goes through Guangdong and other gateways further east.
The Gwadar-Karakoram link to Kashgar could feed fuel to China's western-most provinces and regions (Xinjiang, Tibet, Qinghai).
Together, these are geographically bigger than India, but sparsely populated (a combined population of 30 million), and have little economic activity.
In any case, they are already served by gas and oil pipelines from Kazhakhstan and Turkmenistan.
Feeding Chinese economic centres further east through Gwadar would be at forbidding cost.
The thing makes no economic sense, and may even not have much strategic value since it shouldn't be difficult for the Indian Navy or US navy to bottle up Gwadar port.
As for the China-financed power projects, they are to be given to Chinese companies without competitive bidding, and will have guaranteed returns reported to be about 24 per cent, with State guarantees as insurance against unviable tariffs.
Remember Enron-Dabhol?
As for Bangladesh, if China gets to build a deep-sea port at Sonadia (a project that India had blocked a few years ago), it will have to answer the question that faced Hambantota: Where will the traffic come from?
Unlike Hambantota, Sonadia is not near any shipping lanes. The only answer is that traffic must come from China itself, if transport links can be worked through Myanmar to Kunming in south-east China.
But China already has access to a port on the Myanmar coast, from which oil and gas pipelines feed Kunming.
All of which suggests one conclusion: Either China is building regional transport infrastructure long before it needs it, thinking very long-term, or this is in a chain of Chinese investments with more strategic than economic intent.
Either way, it works only if the recipient of the goodies is not paying; else the whole thing can go sour, as happened in Africa and South America when China went there with gifts.
IMAGE: Chinese President Xi Jinping with Bangladesh Prime Minister Sheikh Hasina. Photograph: Reuters