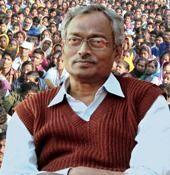 The West Bengal government said on Thursday despite the state's high business confidence index, Opposition parties are sending the wrong message to investors and stonewalling projects.
Stating that local investors found the state government supportive in implementing projects, State Industry Minister Nirupam Sen said the behaviour of the Opposition was sending the wrong signal to outstation investors, which would deter them from setting up projects in Kolkata.
According to a recent Assocham study, the business confidence index for the state stood at 6.5 on a scale of 10, with respondents stating that West Bengal could be treated at par with Gujarat, Maharastra, Karnataka, Andhra Pradesh, Rajasthan and Himachal Pradesh as a favourable investment destinations.
Sen said 206 medium and large industrial units were set up in West Bengal in 2009-10, translating into a 10.5 per cent jump vis-a-vis
last year.
The state government continues to lay stress on industry and has decided to increase the size of the industrial park at Naihati by 50 acres to 150 acres.
Many more industrial parks are coming up at Panagarh and Kharagpur.
He was speaking at the inaugural session of the Engeetech event organised by the Bengal Chamber of Commerce and Industry and IPF Online.
Image: Nirupam Sen