The real estate market in Bangalore, which has been to an extent insulated from the weak demand uptick across in India, is starting to feel the heat. According real estate advisory firm CBRE - Bangalore witnessed a decrease in sales of residential property in H1, 2012.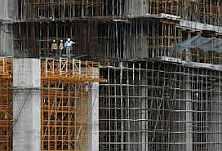 Due to a slowdown in demand and rising cost of funds, many projects showed little progress in construction. Consequently, projects nearing completion in South East and North Bangalore witnessed an increase in capital values by nearly 10-15 per cent during the first half of 2012.

The urban sprawl of the city continued to develop as leading developers had started entering the northern and south-eastern regions, by acquiring large tracts of land in these locations. During the review period, growth in capital values remained subdued.

The capital values mid-segment in the South East, East and Off-Central locations increased 4-8 per cent, while those in the Central, North and South Bangalore rose at a much lesser rate of 1-4 per cent, compared with H2 2011.
The luxury residential values remained stable during the review period.
Rental value growth was also range-bound across most prominent residential locations in the city. Values appreciated 5-7 per cent in the Off-Central location while the other micro-markets like South East, Central and East Bangalore witnessed a nominal increase of 2-4 per cent in H1 2012.
In the mid-segment category, locations in proximity of the prime business hubs such as South East, North and South Bangalore witnessed rental growth of around 3-5 per cent, while rental values increased around 2-3 per cent in the Central, Off-Central and East Bangalore.
Anshuman Magazine, chairman and managing director of CBRE, South Asia Pvt Ltd, said: "Demand for residential properties has fallen, while that for rental properties has increased as end users deferred purchase decisions, anticipating a change in the prevailing economic environment and reduced interest rates in the coming months. However, the second phase of the Bangalore metro rail will lead to an increase in demand for real estate in the medium to long term."