Greater public and private participation is required in sectors such as railways, ports and power as India looks at investing USD 1 trillion in infrastructure over the next five years, Minister of State for Urban Development Saugata Ray said.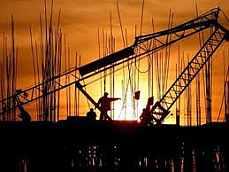 Besides, he said, urban development projects have not been able to get a strong response based on Public-Private-Partnership.

Although PPP is happening in sectors like telecom, ports and roads, lot of other segments need greater attention, the minister added.

"India's basic infrastructure was ranked at 86th in the global competitive report 2010 by the World Economic Forum.

So, we have a long way to go. There is a potential for PPP to contribute more and help bridge the infrastructure gap in sectors like ports, roads, railways and power," Ray said.

He was speaking at the "2nd Regional Conference on Infrastructure Management" organised by CII and CBRE.

"We are envisaging PPP in urban development but the response has not been encouraging except in solid waste management," he said.

The minister also cited the example of development of Delhi Metro and other big airport projects through PPP mode.

Ray said presence of large scale skilled manpower makes India an important player in infrastructure management.

Delhi Mumbai Industrial Corridor (DMIC)
CEO Amitabh Kant said that to accommodate the increasing population in the urban areas, comprehensive planning of cities are required with the help of private players.
Citing example of the government's ambitious USD 100 billion DMIC project, which aims to create world class infrastructure, Kant said they have involved best experts from the world for the proposed smart cities in the DMIC.
These world-class cities would have self-sustainable habitats with minimal pollution levels, maximum recycling, optimised energy supplies and efficient public transportation.
Government has planned seven such cities in the DMIC. He said to develop infrastructure in the DMIC, both public and private participation is needed. But added that the government have to provide the basic infrastructure to attract private players.
"We are working with best master planners for the cities. CISCO and IBM are working with us," he said. CBRE South Asia Chairman and Managing Director Anshuman Magazine said that although the country's infrastructure is gradually improving, managing and maintaining it is a big question.
Recently, for instance, services of Delhi Airport Metro Express, implemented under the PPP mode, were suspended on technical grounds.
Besides, CAG has raised concerns over the Delhi Airport project, implemented by GMR-led DIAL, for alleged deviations from the signed contract.