There seems to be little stopping in the creation of loan slippages. At Rs 10,341 crore, slippages have almost doubled compared to a year-ago level, reports Hamsini Karthik from Mumbai.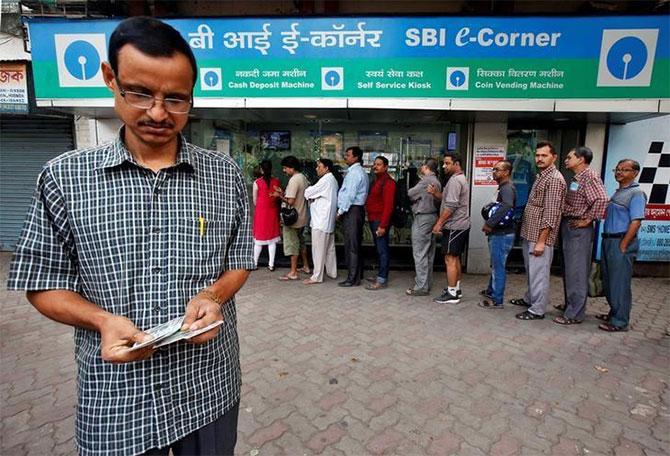 It's the fourth straight quarter of decline in net profit by State Bank of India (SBI). Not just that, the September 2016 quarter (Q2) also missed Street estimates on most parameters.
Net interest income at Rs 14,437 crore was flat in Q2 and net interest margin for domestic operations was down 27 basis points (bps) year-on-year (Y-o-Y) to 3.05 per cent.
Despite non-interest income increasing by 36 per cent to Rs 8,428 crore (Rs 84.28 billion) due to treasury gains and fee income growth, it was inadequate to support net profit, which declined by 34 per cent to Rs 2,538 crore (Rs 25.38 billion). Provisioning for bad loans doubled to Rs 7,670 crore (Rs 76.70 billion) showing little signs of improvement in the bank's asset quality.
The granular details emerging from the Q2 numbers may be more alarming. For a start, gross non-performing assets (NPA) doubled from a year-ago level to Rs 105,783 crore (Rs 1057.83 billion) in Q2; sequentially it was up nearly Rs 4,000 crore (Rs 40 billion).
As a result, despite doubling the provisioning for Q2, net NPA at Rs 60,013 crore (Rs 600.13 billion) trebled compared to year-ago figures (sequentially too it was up by about Rs 2,600 crore).
As loan base is growing at a much slower pace (up 8 per cent) Y-o-Y in Q2 to Rs 14,81,831 crore), the NPA ratios look elevated. Gross NPL rose from 4.15 per cent a year-ago to 7.14 per cent in Q2, while net NPL stood at 4.19 per cent versus 2.14 per cent in Q2'FY16.
What's more worrisome is that there seems to be little stopping in the creation of loan slippages. At Rs 10,341 crore (Rs 103.42 billion), slippages have almost doubled compared to a year-ago level and remain higher against June quarter level.
The only positive is that the addition to slippages is accruing from the watch list (Rs 31,400 crore in Q1) and with this the watch list has reduced by 25 per cent.
Total slippages so far in FY17 stacks up to Rs 19,131 crore (Rs 191.31 billion) and represents 30 per cent of slippages recognised in FY16. Analysts say this indicates that incremental addition to slippages may cool-off, though it would continue to persist in FY17.
But what needs close monitoring is the bank's success with upgradation of bad loans and recoveries. While recoveries at Rs 1,344 crore in Q2 were down sequentially from Rs 1,634 crore (Rs 16.34 billion), loans upgrades stood at Rs 206 crore (Rs 2.06 billion) versus Rs 1,169 crore (Rs 11.69 billion) in Q1FY17; lowest in recent times.
Shweta Daptardar of KRC Research says lower recoveries and upgrades, and higher slippages in Q2 were more disappointing than even the headline NPA deteriorating. Added to this, credit cost rose to 203 basis points in Q2 from 168 basis points in Q1.
With this, analysts say that even if there is a meaningful growth in advances and reduction in slippages, profitability may remain muted. "Return ratios may take a hit going forward, given that on a consolidated level, the bank incurred losses in Q2", says Suresh Ganapathy of Macquarie.
With these concerns looming over SBI, analysts say that the 20% stock price appreciation in the last three months compels them to re-look at their target prices as earnings pressure is likely to persist.
Photograph: Rupak De Choudhuri/Reuters