The dichotomy between richer and poorer states is largely in consonance with the diversity in state level disease burden in the country.
Illustration: Dominic Xavier/Rediff.com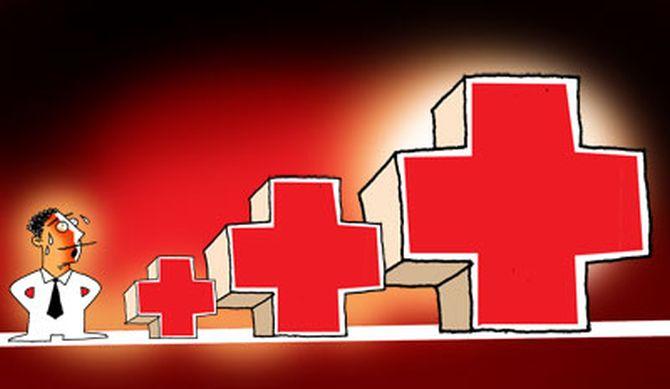 Patients from richer and more developed states are accessing the flagship Pradhan Mantri Jan Aarogya Yojana more to cure lifestyle diseases such as angioplasty for heart disease, or dialysis for kidney failure.
At the same time, those from relatively underdeveloped states are using the scheme more for delivering children or to cure infectious diseases, data from the National Health Agency, the central nodal agency running the scheme, shows.
About 300 days into operation, more than 3.3 million patients have been admitted under nearly 16,000 empaneled hospitals under Ayushman Bharat - PMJAY, to access secondary and tertiary care under numerous packages.
But data suggests the incidence of disease across states is unequal.
For instance, normal delivery, cataract and Caesarian delivery are the top-three packages used by beneficiaries in Bihar in terms of hospitalisation amount.
This means the poorest in Bihar are using the scheme most frequently either for childbirth, or for an extremely common and infectious disease of the eye.
Chhattisgarh is no different in this respect.
But at the same time, most beneficiaries in Maharashtra, Karnataka, and Haryana have accessed the scheme to cure heart disease, using the package for angioplasty (single stent/double stent as well as other types) the most.
This is the most widely used package at the national-level.
However, there are outliers - not all states follow the norm. Madhya Pradesh patients, for example, access the scheme to a significant degree for angioplasty and C-section delivery.
Radiotherapy, used in treating cancers, is most used in Assam.
Top requirements in hill states Sikkim and Himachal Pradesh are for chronic obstructive pulmonary disease, a common lung ailment in developed and polluted states.
The most-used package at the national level is, however, angioplasty; in line with that of the relatively more developed states.
There are two reasons for this. First, five of the top six states in terms of number of hospital admissions are relatively developed, skewing the national average towards them.
Second, bills for treating heart disease or kidney failure are generally costlier than those where hospitalisation is done for cataract or child delivery.
Of the 3.3 million hospital admissions, more than a third are in Gujarat and Chhattisgarh, at 0.6 million and 0.5 million, respectively.
Tamil Nadu, Maharashtra, Andhra Pradesh, and Karnataka have contributed nearly 0.8 million hospital admissions.
In comparison, more densely populated Uttar Pradesh and Bihar have had less hospital admissions under the scheme, at merely 0.13 million and 55,000, respectively.
Further, analysis of data presented in Parliament also shows that the average cost of a package utilised in a richer state is way higher than that accessed in a poorer state.
While Karnataka and Maharashtra clock in a package worth Rs 25,000 on an average, that in Bihar is Rs 10,000, and in Chhattisgarh, as low as Rs 7,000.
The dichotomy between richer and poorer states is largely in consonance with the diversity in state level disease burden in the country, as demonstrated by a 2018 report by a consortium of health organisations, including Indian Council of Medical Research (ICMR) and Public Health Foundation of India (PHFI).
The report shows that developed states have gone through an "epidemiological transition" from nutrition-based and infectious disease to lifestyle-based and non-communicable disease.
Experts said this data is helpful, but should be looked at holistically with population-level data.
PMJAY covers the poorest 50 per cent households, and its data does not reflect anything on how the middle class or the rich access healthcare.
"The data may or may not reflect the actual situation for the population as a whole.
"For example, data from multiple surveys shows that even non-communicable diseases are growing fast in under-developed states.
"These data complement each other and should be used together for policymaking," said Lalit Dandona, a senior public health expert and one of the leading authors of the report quoted above.