For the past five months, ever since he was appointed the Ayushman CEO, Indu Bhushan, a former bureaucrat, has made Nirman Bhawan his second home, working nine to nine with his "dedicated team" on the Modi government's biggest initiative after the Goods and Services Tax, says Nivedita Mookerji.
Illustration: Dominic Xavier/rediff.com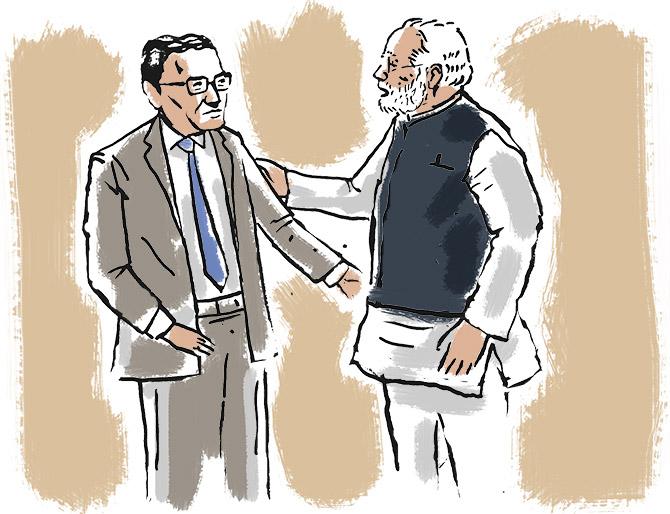 When Prime Minister Narendra Modi was announcing the launch of Ayushman Bharat at Red Fort on Independence Day, the man spearheading the mega health mission was in the audience.
No doubt, the September 25 deadline was top of the mind.
Soon after the function, Indu Bhushan, a former bureaucrat who left the Indian Administrative Service to pursue other goals, was taking questions on how exactly the prime minister's plan would be executed and how the pilots would take off.
For the past five months, ever since he was appointed the Ayushman CEO in March, Nirman Bhawan has been Bhushan's second home, working nine to nine with his "dedicated team," as he puts it.
He could certainly do with more resources but his core team has been lean so far with just about 15 people.
There's been much travel as well (some 10 states in the last 10 days itself to review Ayushman plans), but that's not enough, he says.
His deputy, Dinesh Arora, chips in too, going to places to make sure all is well with this government's biggest initiative after the Goods and Services Tax.
The GST yardstick is both good and bad. It's good because of the size and scale of the project to which it is being compared.
But the tricky part is GST's rough ride with technology when it made its debut.
The government, especially the Prime Minister's Office, has made it clear that Ayushman should do everything to prevent any GST-like software glitches.
The health mission, that aims to provide a benefit cover of Rs 500,000 per family per year to more than 10 crore (100 million) underprivileged, will be enabled through a software network.
If GST had the backing of Infosys, Ayushman's tech side is being managed by Tata Consultancy Services.
Bhushan realises how critical the next 40 days would be to make Ayushman's countrywide launch flawless.
When Business Standard caught up with Bhushan a few days before the prime minister's announcement, he was already working to a plan but refused to divulge the launch date.
In that sense, he's still a secretive bureaucrat. But that's about all, he carries little of the typical baggage you associate with civil servants.
The 1983 batch Rajasthan cadre IAS comes out of his room to usher you in and is available to answer questions related to Ayushman most of the time.
He's been away from the government stuff for far too long now -- after nine years in the bureaucracy, he joined World Bank and then went to Asian Development Bank.
After 20-odd years at ADB, he resigned earlier this year to become CEO of Ayushman Bharat.
Was it easy to make the shift from an international high-paying position?
"For me, it was a big decision because I was doing very well.
"But the opportunity to lead this fascinating scheme and the potential to benefit such a large population was difficult to give up," he says.
He adds that the decision to jump the ship was a no-brainer.
There have been others like him in the past.
For instance, 1981 batch UP cadre IAS Parameswaran Iyer had left a World Bank job to lead the Swachh Bharat programme.
Both are projects close to Modi and monitored by him personally every now and then.
Since Bhushan's appointment is for two years, does he have plans to go back to ADB? "Maybe I will stay back,'' he replies without elaborating.
Obviously it's too early to say whether Bhushan and his team will be able to deliver Modi's ambitious plan, but the meticulousness of planning is impressive.
A large whiteboard at the corner of his office, which resembles a war room, shows state-wise data almost in real-time.
The data captures everything about the states' stance on the scheme.
Which ones have joined, which are resisting, the borderline cases and much, much more on the intricacies of the plans that could be on offer.
There's a review meeting at 10 am every day, followed by many more video and audio conferences, apart from face-to-face interactions.
The work goes on six days a week; on Saturdays it's just his team and the monkeys in the building, he says laughing.
Some days he goes home frustrated; on others, he feels part of a mega scheme that might transform India.
Bhushan, it is believed, was chosen to lead Ayushman for his international experience in working for similar health schemes in China, Mongolia, Vietnam and so on.
His take on this comes as bit of a surprise.
"My experience in IAS has been much more useful than any international experience I have."
India, according to him, is unique and experiences from China, Vietnam, Mongolia cannot be replicated here in any way.
So, even staying away from bureaucracy, his trust in the service shows.
Not unrelated to that is his understanding of political diplomacy that he keeps referring to in his dealings with states.
In fact, as some six to seven states have already gone "live" with Ayushman pilots, West Bengal is top of the mind for him.
Irrespective of Chief Minister Mamata Banerjee's stand on the Modi government, West Bengal has been among the first states to go ahead with Ayushman.
According to Bhushan, Bengal's own state health insurance programme is doing extremely well.
Just the next moment, the phone rings and he's talking to the Haryana chief minister's office: Haryana wants to scale up the Ayushman pilot.
He must be brushing up his IAS skills to take all of it in his stride.