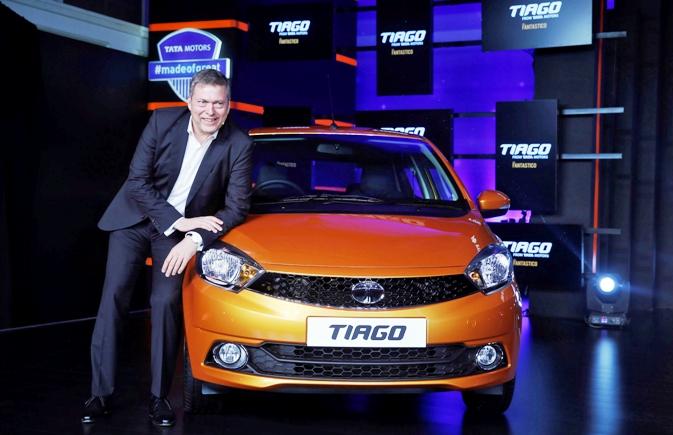 Production at Sanand unit is ramped up
Tata Motors' Sanand plant is humming, thanks to the company's latest hatchback, Tiago, which has garnered nearly 100,000 enquiries, and now has a wait period.
While the company's disruptive pricing (the entry level petrol version of the car costing around Rs 320,000, might have played a big role in drawing customer attention, holding on to this price looks difficult.
Sources said buoyed by the good response the car has received, plans are afoot to start a second shift at Sanand.
The hatchback has been priced strategically at a notch above the Nano and way below the Tata Bolt.
"The plant is making 100-110 Tiagos every day now, and there are plans to start a second shift to raise the production, as there is now a wait period on the car," said a worker on condition of anonymity.
He added the unit has the capacity to make 1,200 cars every day, and if need be, it could be ramped up any moment.
It is also making 2,000-2,500 units of the Nano every month.
Dealer sources indicated they had already received a revised price list which raises the price of the Tiago by Rs 3,000 per unit.
However, the same could not be confirmed.
A company spokesperson said, "There has been no price revision for the Tiago.
"It has been just launched and we are very happy with the positive response the car has seen. We have seen a strong demand but we do not call out specific sales data for any of our products except for the month end reporting to Society of Indian Automobile Manufactures."
At a recent launch, the firm had indicated it would be difficult to hold on the introductory pricing, but did not indicate, if at all a price revision happens, how soon it would be.
Why the pricing is so critical, is because the Tiago's pricing pushes it to the Maruti Alto K10 bracket, but, it has features to take on a Maruti Suzuki Celerio or a Hyundai Grand i10.
Dealers claim there is a wait period on the car, which may run into four weeks.
This is good news for the firm, which has now slipped to the fifth position in the Indian passenger car market, with an overall share of 5.6 per cent.
In the competitive hatchback segment, it has a 3.5 per cent market share.
Abdul Majeed, partner, PwC said, "There is stiff competition in the entry-level hatchback segment, new vehicles launched would do well if customers perceive the value for money considering design, connectivity features, performance and fuel efficiency."
Tata is definitely pinning its hopes on the new car, and as Guenter Butschek, managing director and chief executive officer, Tata Motors had recently outlined in an interview to Business Standard, "We have opened a new chapter of Tata Motors with launch of the Tiago." Butschek felt the Tiago would give Tata Motors a good opportunity to gain market share.
Designed in-house at Tata Motors' facilities at Coventry, UK, Turin, Italy along with the design studio in Pune, it is perhaps the best bet the company has to revive its fortunes after its Bolt and Zest model failed to deliver what was expected out of them.
While model-specific numbers for April is yet to released, overall passenger car sales for Tata Motors has not been too promising. Last month it clocked a two per cent growth.
With deliveries of the Tiago picking momentum, PC sales figures for the firm should look better.
Image: Guenter Butschek, Chief Executive Officer of Tata Motors Ltd, poses with a Tiago car during its launch in Mumbai, India, April 6, 2016. Photograph: Shailesh Andrade/Reuters