You have to rub your eyes hard to believe the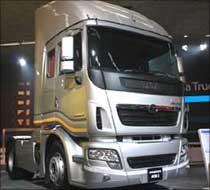 Tata Prima and Mahindra Navistar trucks can rival the best that Mercedes-Benz, Volvo and Scania have to offer.
Their stylish cabs, with the multitude of buttons and gizmos and quality fittings, make you feel you are in a European truck. But then again, both have been developed by Indian manufacturers to rival the best the world has to offer and beat these in markets outside India as well.
"We conceived the idea in the earlier part of the decade, to not only offer Indian truckers a new experience, but also take it internationally," says Ravi Pisharody, head, commercial vehicles, at Tata Motors.
For Pisharody and his team, the project got accelerated once Tata Motors acquired Daewoo Commercial Vehicles in 2004-05 and this, he says, is the first product to emerge from the joint development.
Around the same time, Mahindra announced a joint venture with International Trucks of USA (now Navistar) to develop their first trucks in the 10-49 tonne range.
The first products were supposed to roll out by the end of 2007, but the project was faced with a couple of hurdles. "We had to deal with two issues -- whether the truck cabin would be imported from Navistar's global operations or developed locally and whether we could build our trucks at Zaheerabad, Andhra Pradesh, or at a new site", says Rakesh Kalra, managing director.
"Eventually, we ended up developing the cabin in India for local needs, as well as for international operations, and we shifted to a new location in Chakan, Pune."
Both eventually ran through the same issues in developing trucks for global markets.
"Regulatory issues are different in different markets", says R Ramakrishnan, vice president sales and marketing, Tata Motors.
"We also had to commission research studies in markets where we lacked presence, pool in our information in markets we did, interview truckers and truck drivers and even study competition and general requirements in all the markets concerned," claims Ramakrishnan. Mahindra's Kalra echoes the same sentiment.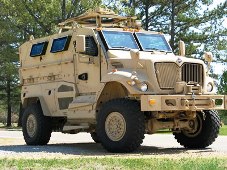 "We kept in mind regulatory requirements of the US, GCC, South Africa and Europe, while deriving data from Navistar and our sources regarding our target markets, their road conditions and requirements specific to those markets."
The true difference lies in the way they source components and have utilised external resources. "Our truck has been designed in Italy, the drivetrain is from US and Europe, the chassis from Mexico, fabrication from Sweden, and dies from Japan", says Ramakrishnan.
Kalra, on the other hand, stresses that their truck uses nearly 100 per cent localised components and the trucks are designed in-house as well.
"We want to ensure that there is reverse flow of components back to Navistar," he says. The modular nature of both the Prima and MN range of trucks means that the applications and possibilities are endless. While Tata claims its trucks can go up to 560 bhp and 75 tonnes, Mahindra says its trucks can go up to 325 bhp and 49 tonnes, but there is scope for more powerful engines from Navistar.
The investments, too, are not small for trucks of such nature.
"We've invested close to Rs 1,000 crore (Rs 10 billion) so far in the product and have an initial production capacity of 55,000 units that can be ramped up to 150,000 units," says Pisharody. Pawan Goenka, president, Mahindra Automotive, talks of even bigger numbers.
"Our joint development costs have been Rs 650 crore (Rs 6.5 billion) and of the Rs 4,000 crore (Rs 40 billion) that have been invested in our plant at Chakan, Rs 2,500 crore (Rs 25 billion) is part of the venture."
Both eventually hope their products will change the face of Indian trucking forever, but equally believe they will leave their mark internationally, too.
Image (top): Tata Prima; Photograph: Rajesh Karkera. | Image (bottom) Mahindra Navistar.