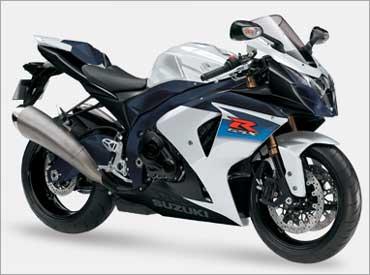 Trouble is brewing at the Gurgaon plant of Suzuki Motorcycle India with workers threatening to go on strike after Holi demanding reinstatement of three suspended colleagues.
The union leaders said two office bearers of Suzuki Motorcycle India Employees Union -- President Anil Kumar and General Secretary Avinesh Kumar -- along with another colleague Pradeep Kumar, who have been suspended on "unfounded disciplinary grounds", must be reinstated.
"We have had talks with the management and labour department officials but nothing has happened. The workers will wait for about 15-20 days after Holi and if their demands are not met, they will go on strike," Suzuki Motorcycle India Employee Union (SMIEU) President Anil Kumar told PTI.
SMIEU is the only workers' union at the plant. While Kumar himself was suspended on March 19 by the management on disciplinary grounds, Avinesh Kumar and Pradeep
Kumar have been put on suspension since February 12 following an alleged altercation with their supervisors.
"The charges of indiscipline against us are completely unfounded. The supervisors were also equally responsible for the altercations and while they continue to work, we have been suspended," Anil Kumar said.
When contacted, Suzuki Motorcycle India Pvt Ltd (SMIPL) Vice President (HR) Anil Munjal said the workers have neither given any notice nor informed the company about the strike.
"We have suspended three workers, including the General Secretary and President of the union, for beating up senior officials of the company in February and March. At present a departmental enquiry is going on against them," he added.
Munjal further alleged that the latest incident in February is the third time that Avinesh Kumar was involved in scuffles with his senior managers.
"As for Anil Kumar, he has been suspended for manhandling a security officer of the plant gate earlier this month," Munjal said.
Union sources said they were trying to seek support from colleagues at the erstwhile Suzuki Powertrain, who will be electing new members of their union on March 24.
The relationship between the workers and the management of the SMIPL have not been smooth. Last year around this time, the management had suspended three workers – General Secretary Avinesh Kumar, Vice President Parminder Kumar and Organising Secretary Gulshan Kumar -- on disciplinary grounds.