SMC plans to develop electrification technologies by 2025, fully im­plement them in pro­ducts from the same year, and make a full-scale quantitative in­crease from 2030.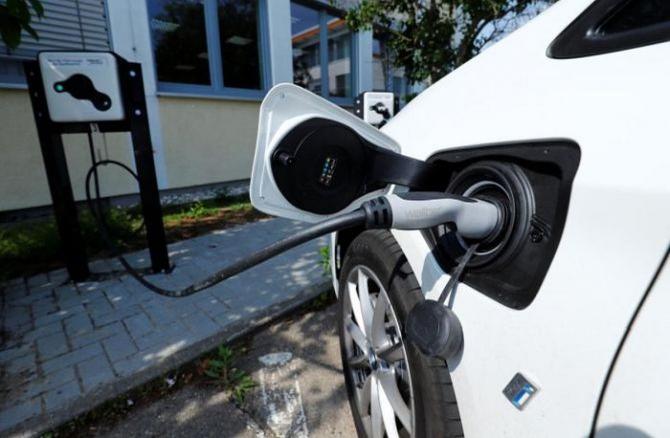 Recently, Suzuki Motor Corp (SMC) in an investor presentation expressed strong intent to enter the electric vehicle (EV) space.
This is part of a larger strategy the Hamamatsu-based firm has drawn up in developing electrification of technologies as it seeks to achieve carbon neutrality.
The significance of this presentation is that it marked the first time that the Japanese carmaker spelt out its EV strategy with well-defined timelines.
SMC plans to develop electrification technologies by 2025, fully im­plement them in pro­ducts from the same year, and make a full-scale quantitative in­crease from 2030.
The announcement by Japan's third-largest carmaker to pursue EV as a strategy to reduce its carbon footprint holds great significance for India — a market that it counts on heavily.
It is the single-largest volume generator in terms of both production and sales, accounting for more than twice the volume generated by SMC's home market in Japan.
"In India, Suzuki will take the initiative in promoting electrification required by society in response to environmental issues," stated the presentation by the maker of WagonR and Alto models, which corners half the passenger vehicle market in India.
This will mark a change in tack for Maruti Suzuki India.
The company has so far steered clear of EVs, citing inadequate infrastructure, high battery and acquisition costs and so on.
R C Bhargava, chairman, Maruti Suzuki India, said, "EVs have never been ruled out. It has always been a function of cost, performance and affordability in India."
If the technology changes for better and performance and affordability improve, it will come in, he added.
"Ultimately, it is customer requirements that have to be met, so nobody can say it will never come.
"These are technology-driven products and one has to keep working on it," Bhargava explained.
Toyota and Suzuki are working on developing better technologies for EVs.
But it's difficult to predict when, he pointed out.
A year back, on the sidelines of New Delhi Auto Expo in February 2020, Maruti's Managing Director Kenichi Ayukawa had clarified his firm's point of view on EVs.
"This is not a good time to bring an electric vehicle to the Indian market. Looking at market conditions and customer expectations, we will decide," Ayukawa had told Business Standard.
Maruti will have to "examine ways to provide an affordable electric product in the personal space", he had said.
According to him, a hybrid could be a stepping stone towards electric mobility till an ecosystem for the latter evolves.
His statement came against the unsatisfactory results for e-Wagon R, which went through field trials for close to two years.
A lot has changed since then with policy-makers across the world reinforcing the need to adopt cleaner technologies, including hybrid, fuel cell and battery-operated EVs and every global car maker worth its name re-imagining a future that is less dependent on gas guzzling internal combustion engines and more on alternative propulsions.
Automakers are accelerating their EV launch plans partly to comply with increasingly stringent regulations in Europe and China.
Covid-19 will delay some of these plans, but by 2022 there will be over 500 different EV models available globally.
Consumer choice and competitive pricing will be the key to attracting new buyers to the market, according to Bloomberg NEF's Electric Vehicle Outlook 2020 report.
In India, Tata Motors and MG Motors have tasted initial success with their EV launch and others, including the local arms of the Hyundai-Kia combine, have crafted an aggressive strategy to bring affordable, mass-segment EVs in line with the parent's plans.
This early success of EV models has instilled confidence among the buyers, prompting even large mainstream players to enter the market.
Puneet Gupta, director at IHS Markit, a sales forecasting and market research firm, said, "EVs are not that big a mystery as it used to be two years ago."
To some extent, the models, MG's ZS and Tata's e-Nexon, have established the viability of EVs.
Having said that, in a portfolio of multiple models just one EV model will not be good enough to make a dent in the segment, said an analyst from a consulting firm.
"It continues to be a foot-in-the-door kind of strategy for manufacturers in India.
"It will take a while before they come up with a complete range of EVs addressing different segments," he said.
Suzuki, which has always been a strong votary of hybrid technology over pure battery-operated electric vehicles, cannot be oblivious to the trend and developments in India and globally and has, therefore, ended up toeing the line.
Of the top five passenger vehicle manufacturers in India four have either announced plans or launched EVs; market leader Maruti is the only one that has yet to announce its plans, Gupta pointed out.
State-specific EV policies that offer attractive incentives to the buyers have also added heft and nudged manufacturers to go beyond the optics and firm up concrete plans, he added.
"Close to 14 countries globally have committed to carbon neutrality as early as 2030" and EVs will be critical in burnishing their green credentials.
Suzuki or its India subsidiary cannot reverse this trend, Gupta said.
SMC's announcement shows that Suzuki and its alliance partner, Toyota, have a clear roadmap on how the two want to go about pursuing electrification, said Avik Chattopadhyay, an industry veteran and co-founder Expereal, a brand consulting firm.
"Expect Suzuki's entire powertrain and engine strategy to be driven by Toyota," he predicted.
Photograph: Ralph Orlowski/Reuters