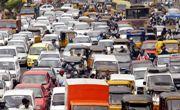 Despite record discounts and introduction of new models, tepid sales continued to remain a concern for most manufacturers in the domestic automobile industry, with seven of them together posting a decline of around 15 per cent in sales to 93,540 units last month.

Industry growth was dragged by Hyundai Motor India Ltd, Tata Motors, General Motors India and Toyota Kirloskar Motor: All reported double-digit dip in sales numbers last month.

Maruti Suzuki India, the country's largest carmaker, is yet to release its numbers.

Tata Motors sold only 14,185 units in December, a decline of 51 per cent over 28,916 units sold in the corresponding month in 2011.

The company reported combined sales of 11,257 units for the Nano, Indica and Indigo series. Sales of utility vehicles added 2,928 units.

Tata Motors said it had received a good response for the new Manza Club Class sedan and the Safari Storme.

But, due to rising demand, the Safari Storme had been released only in the National Capital Region, Punjab, Uttar Pradesh, Rajasthan, Madhya Pradesh, Chhattisgarh, Maharashtra and Goa, and is being introduced in phases.

At HMIL, too, sales declined 9.6 per cent to 26,697 units in the domestic market last month.

GM India, in the meantime, saw its volumes dip 22 per cent to 7,067 units.

The drop in sales at GM India has come despite the company recently introducing the Sail U-VA, and upgrades of Spark, Cruze and Captiva.

"Despite offering various schemes on the purchase of every car, the market continues to remain depressed.

If the current macroeconomic uncertainties continue, the market is not expected to turn round in the short term.

The only hope now is on a good Union Budget," said P Balendran, vice-president (corporate affairs), GM India.

At TKM, sales dropped 24 per cent to 12,071 units in December, compared with 15,948 units in the year-ago month. Sandeep Singh, deputy managing director and chief operating officer, (marketing and commercial), said: "The passenger car market continues to be slow, as has been in the last
few months.
"We hope the new year will usher in good times again with economic revival and better market sentiments."
Homegrown carmaker Mahindra and Mahindra Ltd (M&M), however, managed to buck the trend on the back of demand for diesel-powered utility vehicles, such as Bolero, Quanto and XUV500.
Mahindra sold 22,761 units during December, 18 higher than the 19,341 units sold in December 2011.
Pravin Shah, chief executive (automotive division), while expressing satisfaction over the sales momentum, cautioned: "High interest rates, rising fuel prices and an overall slowdown in economic growth has kept consumer sentiment low during 2012.
"This is also evident in the sales performance for December, which traditionally has been a lean month.
"We do hope that corrective measures are announced and implemented soon, bringing in the much-needed buoyancy and growth for the industry."
The other two that managed to post some increase in sales were Ford India and Honda Cars India.
While sales went up nine per cent to 6,517 units for the former in December due to its marketing campaign, the latter saw a sales push on demand for the Brio.
Honda sold 4,242 units, over half came from demand for the small car.
The two companies have a small share in the overall passenger car industry at present.
In the two-wheeler industry, too, consumer sentiments continued to remain weak.
Sales at Hero MotoCorp Ltd, the country's largest motorcycle maker, remained almost unchanged at 541,615 units in December, compared with 540,276 a year earlier.
TVS Motor Co Ltd posted a decline of 9.6 per cent in December from a year earlier at 151,735 units.
Anil Dua, senior vice-president (marketing and sales), Hero MotoCorp, said: "December, being the last month of the calendar year, usually witnesses sluggish retails as customers tend to postpone their purchases to the new year.
"Despite that, we have been able to despatch over five lakh two-wheelers during the month.
"We also have comprehensive marketing and customer engagement plans lined up for the remaining months of the fiscal to maintain this trajectory."