With demand for petrol vehicles on the wane in the domestic market, automakers have stepped up efforts to boost exports of petrol engines and cars driven by the fuel to build volumes and offset the adverse impact of foreign exchange fluctuations.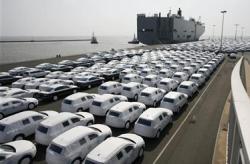 While Maruti Suzuki India, the country's largest passenger car maker, is exporting its 1-litre K-series engine to Hungary (which powers its small cars such as the Alto K10, A-Star, WagonR and Zen Estilo), to strap on to the Suzuki Splash (Ritz), Ford India is shipping out as much as 40 per cent of the engines produced at its Chennai facility to countries in southern Africa and Asia.

At Honda Cars India, exports of critical engine components for small car Brio are estimated to bring in revenues of Rs 471 crore (Rs 7.71 billion) this financial year.

Toyota Kirloskar Motor Pvt Ltd (TKM) is looking at closing the year with sales of 20,000 units of the petrol-driven versions of the Etios sedan and the Liva small car in Africa.

The renewed effort to boost exports of vehicles and components come at a time when a record inventory of around 155,000 units of petrol vehicles are lying in sales networks across companies. This accounts for 70 per cent of the stocks available in the market.

Diesel vehicle sales increased by 42 per cent between April and November this financial year. Petrol vehicle sales fell 20 per cent in the same period, and this, too, over a low base of petrol car sales in 2011.

Maruti Suzuki, for one, has an idle capacity for manufacturing 500,000 units of petrol engines. Compatriot TKM is utilising only 15 per cent of the total capacity of assembling 100,000 units of petrol engines at its unit in Bangalore for sales in the domestic market.

While Ford India did not share details of capacity utilisation at its engine manufacturing facility, the company indicated manufacturing operations had not achieved optimum levels and plans were being worked out to export engines to Europe.

"For every manufacturer, the aim is always to boost volumes by increasing sales both in the domestic and overseas markets. Besides, over the last two years, the (Japanese) yen has strengthened by 50 per cent, while the dollar has appreciated by nearly 20 per cent, which has raised substantially our import bills," said a senior executive at Maruti Suzuki, who did not want to be named.

"The natural hedge
against fluctuating exchange rates is to increase exports," the executive said. Overall, the company is targeting to increase revenues from exports' operations by 50 per cent to $1.2 billion (around Rs 6,590 crore) by 2015.
With Maruti Suzuki's exports projected to increase marginally to 130,000 units in the current financial year on the back of contraction in demand in the crisis-hit Euro zone, the company is working on developing alternative pockets of growth in emerging markets of Africa, Latin America and South-east Asia.
"We sold around 75,000 units in non-European markets last year and aim to increase it by 30 per cent in the current fiscal," said the executive quoted above.
The car maker has diversified its basket for exports and is also shipping out the DZire sedan to Africa and the knocked-down kits of multi-utility vehicle (MUV) Ertiga to Indonesia.
Added Sandeep Singh, deputy managing director and chief operating officer of TKM: "Around 20 per cent of our sales of 75,000 units this year will come from petrol variants. We have started shipping petrol vehicles to Africa to increase volumes."
TKM, a joint venture between Japan's Toyota Motor Corp and India's Kirloskar group, plans to export 20,000 units of the Etios series to the continent this year.
Toyota Kirloskar Auto Parts (TKAP) is already exporting transmissions for the MUV Hilex and the sports utility vehicle Fortuner to manufacturing facilities in Thailand and Argentina.
The company will additionally commence supply of transmissions from TKAP to its Brazilian affiliate early next year, where the Etios series has been introduced recently.
Ford India, which ships out small car Figo and sedan Fiesta Classic from the country, has also added new markets overseas.
"We are exporting to 37 markets from India. Till November this year, we exported around 26,000 vehicles from India compared to the 22,000 units we had shipped in the corresponding period last year," said an executive at the Indian unit of American auto giant Ford Motor Co.
"Developing exports operations help in de-risking the company from demand fluctuations in the local market. For engine exports, too, we are working out plans to ship out from the capacities set up in India to Europe in future," said the executive, who also requested anonymity.
Ta-Ta, Ratan: Tribute to an iconic Indian