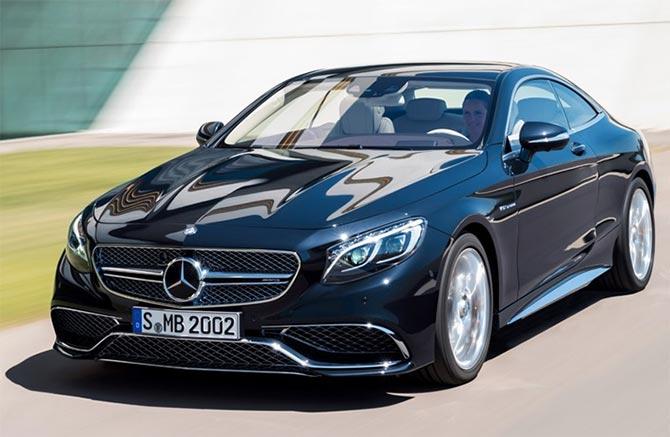 For German giant Mercedes-Benz, it is a severe hit.
Luxury car manufacturers will take the biggest hit with the diesel vehicle ban ordered by the Supreme Court.
Manufacturers which meet the emission norms but face the axe due to the order are Porsche, Jaguar Land Rover, Maserati, Volvo, BMW, Mercedes and Audi.
Mitsubishi, Mahindra & Mahindra, Toyota, Tata Motors, Ford, Hyundai, General Motors and Isuzu are the other manufacturers to be affected but not as severely, as only a few of their models come under the ban.
For German giant Mercedes-Benz, it is a severe hit.
Three of its 11 non-AMG models such as CLS, GL and GLE are sold only with a diesel engine.
Seventy per cent of Mercedes' sales volume is diesel-driven and Delhi is a significant market, about 15 per cent of its sales.
Tata Motors-owned JLR is also severely hit. All six SUVs of Land Rover are sold only with diesel engines.
At least two of Jaguar models, XF and XJ, have diesel as an option, beside the regular petrol.
For Volkwagen-owned Porsche, Delhi and the National Capital Region area are a big chunk of sales. Its top-selling Cayenne SUV and Panamera are diesel and a big hit in the north.
Gurgaon and Noida are also a big market for luxury cars, even if Delhi is not as significant.
"What happens to people who have placed the order with manufacturers?" asked an official from one of the luxury car makers.
BMW, Audi and Volvo can breathe easier for now, as a majority of their diesel models have engines below the 2,000cc threshold. Compact models like the BMW 1 series, X1 and X3, and the Audi A3 and Q3, compete against the four compact models of Mercedes-Benz (A-Class, B-Class, CLA-Class and GLA-Class).
Mercedes-Benz, cruising this year with sales growth of 34 per cent in the January-September period, will come under pressure. BMW and Audi could gain from its loss.
The ban does not speak about used luxury cars and that is where used car retailers are expecting to witness a shift in demand for diesel.
According to market watchers, since there is no fuel alternative to big SUVs, buyers will be forced to shift to used cars.
"We think this decision is going to adversely affect the automobile industry as a whole and will certainly encourage the creation of an unequal ground.
"This ban on diesel engines also creates an environment of uncertainty and will severely impact our expansion plans and future investments put in place for the Indian market.
"We also have to consider the loss of jobs that this will result at the dealerships, at the vendors producing diesel engines and also negatively impacting our own workforce," said a spokesperson of Mercedes-Benz India.
Jatin Ahuja, president of BigBoyToys, a Delhi-based used luxury car retailer, said: "Presently, 38 per cent of our sales come from diesel.
"This might rise with the ban. There is an audience who particularly like diesel because of its torque."
Some models of other non-luxury brands will see a dampened demand but not as effective as on the luxury brands. While M&M will be the biggest loser from the ban, Toyota Kirloskar would also be impacted significantly.
Almost the entire product line of M&M (the exception being the TUV3OO and some variants of the Verito class not falling under the ban) will be affected.
Toyota Kirloskar's best selling utility vehicle, the Innova, beside the Fortuner and Land Cruiser, both a big hit among the political and business class, will face the axe in Delhi and the NCR.
(with inputs from Ajay Modi in Delhi)
Image: A Mercedes-Benz car. Photograph: Kind courtesy, Mercedes-Benz. The image is used for representational purpose only.