Even as domestic passenger car sales declined 29.4 per cent between April and August this year, exports grew 6.5 per cent, partially cushioning the blow from slowing sales.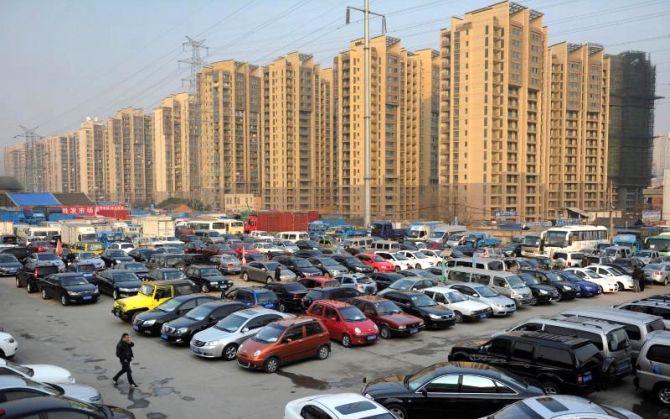 Once a booming car market, India is now in the grips of a prolonged slowdown, forcing automakers from Maruti Suzuki to Toyota Kirloskar to cut production or halt manufacturing temporarily to clear the pile-up in inventory.
Since the start of the year, companies have been struggling to sell cars despite deep discounts, let alone increase demand.
But there is a positive story emerging from the gloom.
The slowdown has whetted the ambition of automakers to expand their foothold abroad.
So even as domestic passenger car sales declined 29.4 per cent between April and August this year, exports grew 6.5 per cent, partially cushioning the blow from slowing sales.
A similar trend was in evidence for two-wheelers, where domestic sales declined 14.85 per cent, but exports grew 4.52 per cent, with motorcycles leading the way.
So what is helping this overseas push? Several factors seem to be at play. For one, a weaker rupee has helped Indian manufacturers outflank foreign rivals in terms of prices.
Many car makers have designed their plants in a way that they can easily switch to making cars that are of export quality during lean phases in the domestic market.
The country's largest car exporter, Hyundai Motor India's MD & CEO S S Kim, for example, says a flexible industry 4.0 plant can cater to both domestic and export markets and switch from catering to one market to another with ease.
The demand is coming in particular from markets in Africa, where automobile ownership is low and the industry is still in the early stages of growth.
This flexibility in the manufacturing plants has kept the company's Chennai unit running at around 97 per cent capacity despite flagging sales in the local market, says Kim.
The plant caters to around 91 countries across Africa, West Asia, Latin America, Australia and Asia-Pacific.
This strategy has been implemented by many others who are now tapping the export market.
During January to August, Hyundai Motor's export grew 15.84 per cent to 122,518 units from 105,768 units a year ago.
Other car markers who saw a jump in exports during this period are Nissan (27 per cent increase), Toyota Kirloskar (21 per cent) and Volkswagen (7.3 per cent). Utility vehicle manufacturer Mahindra & Mahindra's export rose by 42.3 per cent and Maruti Suzuki's by 4.4 per cent.
Some have also focussed on building synergies between alliance partners to cut operation costs. Such a strategy has several offshoots.
Biju Balendran, MD and CEO of Renault-Nissan Automotive India, says optimising technology and common facility has helped them deliver higher-value vehicles to customers.
Renault-Nissan has Mitsubishi as its alliance partner.
In addition to cars, the company also exports around 4,000 auto parts to 66 plants across 28 countries.
From the Chennai plant, powertrain parts are sent to countries such as Romania and Brazil.
It also exports stamping panels to plants in Russia and Egypt.
As far as two-wheelers are concerned, in the scooter segment, Yamaha Motor India, Piaggio and Suzuki have reported a strong growth, while in motorcycles out of the 12 players, five have reported growth in exports.
All of them though have reported a drop in sales in the domestic market.
TVS Motor Company, for example, saw 6.4 per cent growth in exports during April-August, while domestic sales declined by 5 per cent.
The company currently exports to over 60 countries across the globe.
Export contribution to sales rose to 24 per cent from 21 per cent.
It has invested in setting up sales and service networks to expand in new geographies and strengthening its presence in Africa, Latin America and Central America.
Exports have shored up sales for commercial vehicle manufacturers as well, although the growth in this segment has been slower than in passenger cars.
Satyakam Arya, MD & chief executive of Daimler India, said the Chennai facility is being developed as a global export hub.
The facility will cater to the Latin American markets from 2022. Daimler's exports saw an 8 per cent growth, and new categories are being added to grow it further.
For example, the company has initiated exports of sub-9-tonne small vehicles from its India facility recently, even though it is not sold in India.
Ashok Leyland has also set a target to increase export contribution to 20 per cent over the next five years, from around 10 per cent now.
Besides neighbouring markets, original equipment manufacturers are aggressively looking at the ASEAN and Latin American markets.
Recently, the US market has also gained traction.
According to data from the US department of commerce, imports of new passenger vehicles and light trucks from India during January-June 2019, rose 9 per cent to $395.8 million from $360.45 million last year.
Exports bring in a considerably bigger margin for manufacturers compared to domestic sales.
Exports typically fetch 15-25 per cent margins, while in domestic market it is 11-13 per cent.
Companies counting on the export market say they do not expect a slowdown in the near future.
Hyundai is planning to start export of its new compact SUV Hyundai Venue from this month.
Figures for September released earlier this week show exports grew 13.5 per cent over the same period last year, and they are likely to drive growth in the near future.
Another new entrant into the market, Kia Motors, said that the company will be producing 40,000-60,000 cars this year, of which 30 per cent will be exported.
CARE Ratings in a report said passenger vehicles is expected to witness a growth of 6-8 per cent in FY20 driven by exports of passenger cars and multi-utility vehicles, after declining by about 10 per cent year-on-year in FY19.
The country's decision to switch to stricter BS VI emission norms has also helped some exporters.
Daimler's Arya says the switch has opened up more opportunities for the Chennai plant to export fully-built vehicles, engines and parts.
It is likely to start export of BS VI vehicles and parts from the Oragadam factory, near Chennai, from 2021.
It will initially export to Mexico, Chile and New Zealand and will explore the possibility to ship the products to Europe later.
Photograph: Reuters