'The expectation was that Modi would become even bolder in his approach, and after only four months into his second term, we are starting to see evidence of this.'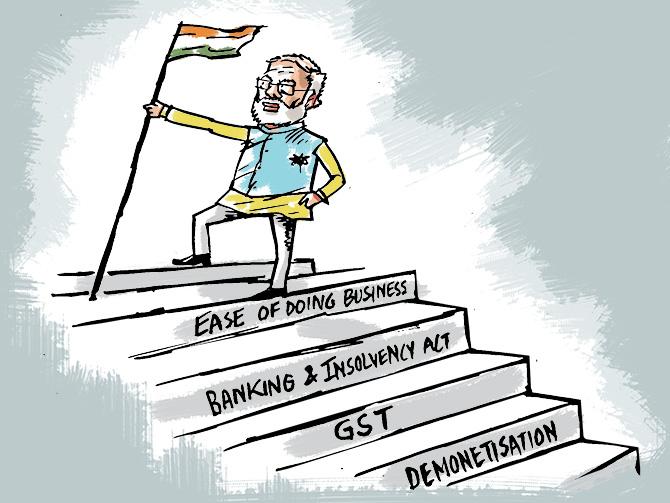 London-based David Cornell is the chief investment officer at Ocean Dial (now a wholly owned subsidiary of Avendus Capital, India), that runs the India Capital Growth Fund, Gateway to India Fund, Composite India Fund and Emerging India Fund.
"Given the political stability that exists in India today combined with Modi's reformist agenda, we are confident that Modi is the right man for the job," Cornell tells Rediff.com's Prasanna D Zore.
What reforms does the international investors community expect of Prime Minister Modi in his second tenure?
In Modi's first term he launched a number of initiatives that set about improving India's economy, which secured his status as a 'reformer'. The majority of these reforms were welcomed by investors, in spite of having a detrimental impact on growth and corporate profitability.
Demonetisation was Modi's campaign to tackle corruption head on; Goods and Services Tax standardised sales tax across the country to boost efficiency; the Banking and Insolvency Act addressed India's inefficient banking sector, to name just a few.
Despite hostility towards some of these domestically, the long term view was that they signalled Modi's business-friendly outlook and a desire to steer the country towards a path of sustainable low inflationary growth.
Even as the benefits from these reforms may not yet be fully realised, they have already contributed to India's improved ranking in terms of ease of doing business, moving from 134th in 2014, to 77th in 2018 according to the World Bank's Ease of Doing Business Report.
Further to this, inflation has come down to single digits where it is forecast to remain for the foreseeable future.
Modi's landslide victory in the May (2019) elections put the BJP in a strong position to continue to reform.
The expectation was that Modi would become even bolder in his approach, and after only four months into his second term, we are starting to see evidence of this (the cut in corporate tax rates from 34% to 25%).
Smaller measures were initially implemented in an attempt to boost confidence -- the merger of 10 State banks into four, reversal of the poorly received surcharge on FPIs -- but investors had not considered these to be significant enough.
The corporate tax rate cuts are the first clear sign that the government is responding to the country's economic slowdown, although more still needs to be done.
What investors will now be waiting to see is what Modi initiates in terms of labour and land reforms, two key areas that need addressing in order to encourage greater levels of foreign direct and portfolio investment.
What attracts you to India the most: A stable government or India's demographic dividend, her growing middle class? What is it that makes India an attractive investment destination for overseas investors?
Whilst India has historically been in the shadow of China in terms of attracting global investment, the country has enormous potential.
Being the world's largest democracy is a big pull -- the independence of the central bank (the Reserve Bank of India) and its adherence to the rule of law certainly gives it stability that some of its other EM (emerging market) peers lack.
India's demographic dividend is equally attractive; its growing working population (and the commensurate fall in the dependency ratio) sets it apart from the Western world and provides it with huge catch-up potential.
India also stands out for its wide range of investible sectors. Unlike many other emerging markets, India truly is a stock-pickers's paradise with opportunities across a broad range of sectors and an excellent management bench strength.
Regarding the latter, you just need to look at the CEOs of some of the largest organisations globally to see evidence of this (Sundar Pichai -- Google; Satya Nadella -- Microsoft; Ajay Banga -- MasterCard to name a few).
Beyond this, the country is experiencing a reverse 'brain drain' whereby young professionals who have left to seek education abroad are now returning to India in search of entrepreneurial opportunities, bringing with them whole new skill sets.
India's young population combined with the low cost of data is fast-tracking the technological revolution.
India's data usage is three times that of China and it is the fastest growing market for mobile phones globally, with Internet users between 15 and 24 spending up to 10 hours online each day.
Combined with a rapidly growing population, the Internet is opening up a whole new range of consumer bases by way of e-commerce.
It has been this government's avowed position to make India a $5 trillion economy by 2022. Is that achievable? If it is, then what kind of economic reforms road map should the Modi government follow?
Whilst the recent corporate tax rate cuts will certainly support this growth, there are areas that the government must address in order to reach this target.
Foreign investment will be instrumental here, and progress on reforming archaic labour and land laws is essential.
Labour laws need streamlining in order to boost employment, whilst land acquisition is a slow and cumbersome process which hinders foreign capital commitment to India.
Whilst initial steps have been made to improve these areas, more needs to be done, particularly at the state level.
Given India's macroeconomics -- a likely overrun of the fiscal deficit target due to cut in corporate tax cuts, supply bottlenecks, demand slowdown, etc -- global headwinds like a sudden spike in oil prices due to geopolitical tensions in the Middle East, do you feel confident that the current political leadership can stave off such challenges?
India's high dependence on imports means that it is particularly vulnerable to the volatility of the global crude oil market and particularly a sudden spike in oil prices. Steps have already been made to diversify the sources of imports, reducing its exposure to the Middle East and looking to Africa, South America and North America as alternatives.
Renewable energy is an obvious way for India to diversify. Modi discussed plans to increase the country's renewable energy target at the UN Climate Action Summit.
Whilst received positively by environmentalists, the new target is ambitious and there will be speculation about the availability of funding. More clarity is needed on this before investors can feel confident in the diversification that it would bring.
Given the political stability that exists in India today combined with Modi's reformist agenda, we are confident that Modi is the right man for the job.
While Indian equity markets have been on a roller coaster ride ever since Finance Minister Nirmala Sitharaman announced the cut in corporate income tax rates to 25% for existing manufacturing units and 17% for greenfield projects, do you see value in the Indian market?
The BSE MidCap Index has corrected sharply relative to the BSE Sensex Index and now (for the first time since late 2013) trades at a discount to the large cap index.
Value in the mid and small cap space was evolving even before the announcement of the tax rate cuts and consequently we have been adding to portfolio exposure for some time.
This is predominantly topping up existing stocks in the portfolio that have been heavily beaten up. Looking ahead we are focusing on domestic sectors.
Would you see an upgrade for earnings given the corporate tax cut and will that lead to investors like you buying Indian equity afresh?
Estimates following the announcement are suggesting an across the board 9% boost to the bottom line, although this has already been priced into the market. Whilst there is still much to do, investor confidence was waning so these cuts should go some way to revive this.
We believe that this reform demonstrates the government's commitment to sustainable growth and its commitment to support the private sector's role in economic expansion.
Although there is still uncertainty over how the government will maintain its fiscal discipline, the benefits of this policy should outweigh the costs.