The interest offered is mostly 0.5 to 1 per cent more than what other banks offer.
Moreover, customer service and long-term association spanning generations are also other reasons for the popularity.
Illustration: Uttam Ghosh/Rediff.com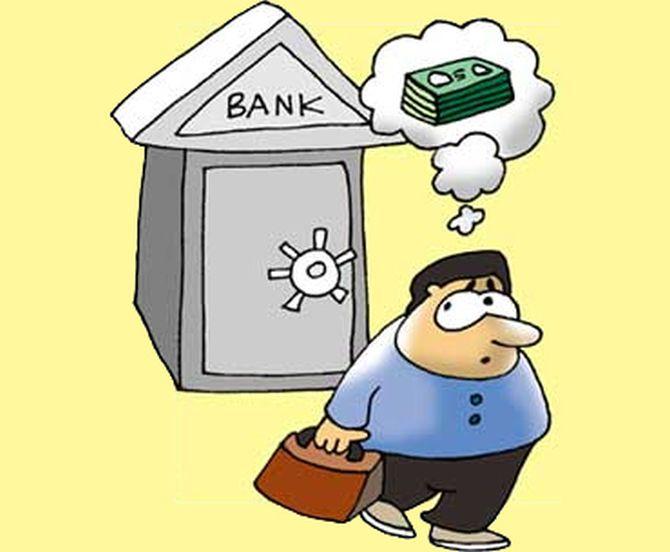 Even as co-operative banks go belly up at alarming frequency, depositors' trust in these banks remains seemingly rock solid.
The reason for this could be manifold, but one major reason is the high interest rates these cooperative banks offer.
This is especially true for senior citizens, who flock with their life savings to reputed urban co-operative banks.
"Retired and old people, who are dependent on interest income, park their money primarily because of the higher rates offered by these co-operative banks," said Abizer Diwanji, head of financial services at EY.
Not only senior citizens, others also keep their money here for higher interest rates.
The interest offered is mostly 0.5 to 1 per cent more than what other banks offer.
That was one of the primary reasons for the motivation of depositors in Punjab and Maharashtra Co-operative (PMC) Bank.
"The only reason I had saved my money with them was the extra 1 per cent interest which I was getting against my deposit," said Seema Kapoor, who has two savings accounts at the Bandra-West branch of PMC Bank.
According to Diwanji, depositors take comfort in the fact that these banks are regulated by the Reserve Bank of India (RBI), "and therefore assume they can never fail".
"But what people don't realise is that it is a light-touch regulation.
"The cooperative banks are nowhere closely scrutinised as banks or even non-banking financial companies in which RBI has direct control," Diwanji said.
The PMC Bank crisis also brought to the fore that there is no single borrower limit prescribed for cooperative banks, which is risky from a stability point of view, according to Diwanji.
Besides, in states like Maharashtra, there is a rule that housing societies must open their accounts with cooperative banks.
But this particular rule has been relaxed and the housing bodies have been allowed to maintain their accounts with commercial banks too.
So far, there was no compelling reason to withdraw these deposits and transfer them to other banks for these housing societies, till the bank's fraudulent lending practices to real estate firm Housing Development & Infrastructure (HDIL) came to the fore, leaving depositors in limbo.
In case of PMC Bank, the added advantage for depositors was the long working hours - some branches were open in evening and on Sundays too.
"The bank is close to my house, is open on Sunday also, and is open till 8 pm.
"It is very convenient for working people like me and then the extra interest which I was earning," said Kaveri Chaddha, who has four accounts with the bank.
Customer service and long-term association spanning generations are also other reasons for the popularity.
"My parents opened these accounts some 35 years ago and we continue with the long time association," said Harpreet Singh Guleria, who has five accounts in PMC Bank.
There are other substantial reasons why depositors tend to prefer cooperative banks over full service commercial banks, including public sector banks. Some states pay their lower level employees,and even teachers through cooperative banks.
Relationship plays an important part. Cooperative banks, by way of their small footprint, know their local customers well.
Managers often tell their friends and family members to open accounts in the bank, and that brings business for the bank.
Association with a particular place often makes people feel one with the bank, and that leads to business.
The know your customer (KYC) norms are usually far lenient than in other banks, and there is almost an unwritten guarantee that depositors will get loans, too, in their time of need.
Besides, there are local factors also. Particularly in villages, and in case of agriculture, or profession-based cooperatives, people keep money as the banks have been floated by themselves or their forefathers.
Local politicians also sometimes give their verbal guarantee on the deposits, and more often than not, honour the promise, too, winning the trust of the customers.
"Politicians do run cooperative banks, and based on their assurances, people keep money.
"But that can continue till the bank is of a particular size. Once it becomes bigger, the political connection becomes messy and politicians end up using the bank for their own activities," said a senior consultant, requesting anonymity.