Significant market size in these countries would help in biz expansion
To rapidly scale up its international operations, Hero MotoCorp, India's largest two-wheeler manufacturer, is considering fully-fledged manufacturing operations in Bangladesh and Colombia (Latin America) by the end of this financial year. This would be Hero MotoCorp's first initiative on manufacturing operations abroad since the termination of its joint venture with former partner Honda Motor Company. Currently, it assembles completely knocked-down units (CKD) through distributors in Bangladesh and Colombia.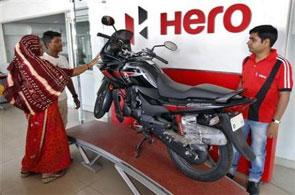 A person in the know of the development said, "Hero MotoCorp already has distribution partners in these two countries. The company is looking at expanding operations and setting up fully fledged manufacturing units in Colombia and Bangladesh by the end of the current financial year. There are plans to explore opportunities for assembly facilities in African countries such as Kenya and Nigeria later."
The market size in Colombia and Bangladesh is significant and the manufacturing units would help the company expand business in these geographies rapidly. "Indian two-wheeler companies would, sooner or later, look at setting up manufacturing units in Latin American, African and Southeast Asian countries. There is a lot of potential in these markets. For exports, freight costs are added to product prices and without local bases, it would eventually become difficult for companies to remain competitive, in terms of product pricing," said Abdul Majeed, partner and leader (automotive practice), PricewaterhouseCoopers.
Industry sources say while about 6,00,000 two-wheelers are sold in Colombia every year, the Bangladesh market size is about 2,00,000 units a year.
A Hero MotoCorp spokesperson said, "We do have plans to set up assembly units in our international markets, wherever it makes sound commercial logic. We already have CKD assembly operations in Bangladesh and Colombia, through distributors. We may also look at other markets to set up similar assembly operations."
Earlier, Hero's partnership with Honda Motor Company had prevented it from scaling up its international footprint. The company had rights to export two-wheelers only to markets in Sri Lanka, Nepal, Bangladesh and Nepal, along with Colombia in Latin America.
Recently, Hero had incorporated its first off-shore investment subsidiary in the Netherlands. "The foreign arm would take care of our international operations, be it in expanding exports or in making investments in joint venture partnerships and strategic alliances. In certain countries, the duty structure is such that we need to maintain specified levels of local content in our products. In such cases, the off-shore subsidiary would help us make investments in setting up assembly units or manufacturing facilities," said Ravi Sud, chief financial officer, Hero MotoCorp.
The company is also exploring opportunities to set up companies in the US, Europe, Latin America and Southeast Asia. "If we need to import components from China, we may consider having a subsidiary in Hong Kong. We may also look at setting up a foreign company to expand our business in the US," Sud said.
Strategically, the new ventures are aligned with Hero MotoCorp's target to increase international business to 10 per cent of its total volumes by 2016-17. With foreign sales of 1,61,043 units in 2012-13, exports account for about three per cent of Hero MotoCorp's overall sales.
The off-shore arms would help the company scale up its international footprint in 30 countries through solo investments, joint venture alliances and strategic partnerships in two to three years.
Hero MotoCorp has already started exports to new markets in central and Latin America and Africa. The first consignment of two-wheelers has already been shipped to Peru in Latin America, El Salvador, Guatemala and Honduras in central America and Burkina Faso and Ivory Coast in Africa. The company has appointed new distributors and channel partners in all these markets, where retail sales of the company's two-wheelers are likely to commence this quarter. Products to be sold in these markets include models from the 100-125 cc range.