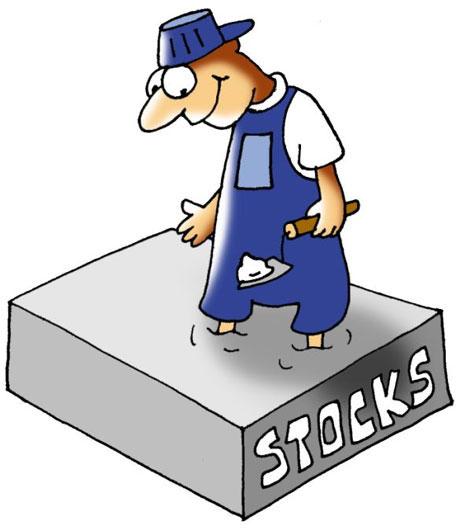 Stocks of companies in rate-sensitive sectors such as banking, automobiles and real estate came saw heavy selling pressure on Tuesday, falling up to six percentage points after data showed Wholesale Price Index-based inflation hit a three-month high of 5.7 per cent in March, against 4.68 per cent in the previous month.
On Friday, data showed the Index of Industrial Production for February had contracted 1.9 per cent, led by a dismal show in manufacturing, especially capital goods. Consumer Price Inflation-based inflation for March stood at 8.31 per cent, compared with 8.1 per cent in February, showed data released on Tuesday.
Analysts believe the Reserve Bank of India (RBI) could keep key rates unchanged for some time, and this does not bode well for rate-sensitive stocks, at least in the short term.
"In FY14, industrial output growth turned its trajectory from negative to positive and again to negative five times. This clearly indicates the fragile nature of industrial growth, which is reeling under depressed consumption and sluggish investment demand," says a report from India Ratings, a Fitch group company.
"We believe RBI might go for a long pause on policy rates. As the winter supply begins to wane, the prices of vegetable and fruits could again surprise on the upside. Moreover, unseasonal rains in various parts of the country, coupled with expectation of the El Niño disrupting the normal monsoon this year, does not augur well for the inflation outlook," it adds.
Metal stocks fell on Tuesday, with the S&P BSE metal index sliding 2.8 per cent compared to the 0.64 per cent fall in the benchmark S&P BSE Sensex and the CNX Nifty.
However, analysts aren't reading too much into the fall; they say this might have resulted from profit-booking.
Vaibhav R Sanghavi, director (equities), Ambit Investment Advisors, says, "The fall is due to regular profit-booking by investors and I don't see this as cause for concern. Metals are more of a global play.
Worldwide, the demand-supply situation seems to be evenly poised. Even if there is a slowdown in China, the US and European economies are picking up steam. I don't foresee a big crack in the metal prices."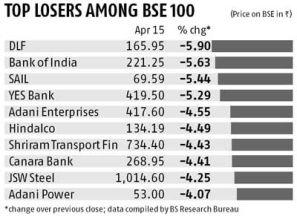 The fall in rate-sensitive stocks follows significant outperformance since the lows seen on August 28, 2013. Since then, the CNX auto, infra and bank Nifty have surged 39-47 per cent, against the Nifty's 28 per cent rise.
Despite macroeconomic headwinds and irrespective of how interest rates pan out, analysts say the fall in rate-sensitives could be used to buy stocks from a medium- to long-term perspective.
Vaibhav Agrawal, vice-president and head of research (banking) at Angel Broking, says: "I think rate-sensitive stocks are seeing some profit-booking. However, the road ahead for these stocks looks positive. If the election outcome is positive, there could be an economic revival, which will positively impact the banking sector.
Despite the minor hiccups, the overall direction is positive. In the banking space, we like Axis Bank, ICICI Bank, State Bank of India and Punjab National Bank. One can buy these stocks."
Tirthankar Patnaik, director (institutional research), Religare Capital Markets, believes the fall on Tuesday is partly due to profit-booking. "Inflation numbers have been slightly higher than expected, which is also a cause for concern. In the rate-sensitive pack, we like LIC Housing Finance, Maruti Suzuki and Tata Motors," he says.