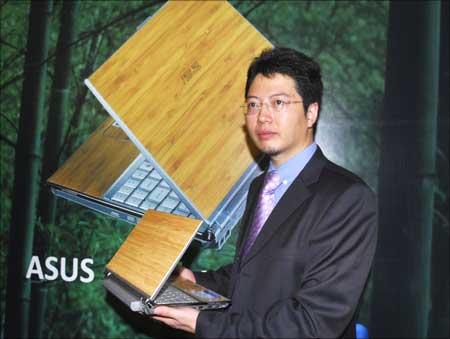 ASUS Technology on Wednesday announced the launch of its much awaited eco-friendly Bamboo Series Notebook in India. The Bamboo series Notebooks are exquisitely designed with real bamboo to give a personalised and exclusive feel.
The end-to-end eco-friendly Bamboo Notebook is a revolutionary innovation in Green Computing. It is 'green' throughout its life cycle - from its conception and production to its recycling.
ASUS is the first company to come up with a revolutionary concept of using bamboo casing for Notebooks.
Stanley Wu, country manager for notebook business, ASUS India, said, "The launch of Bamboo Series Notebook will usher in a new era of green computing. It will mark a paradigm shift in the way computers are used and manufactured. With the ever increasing concern over global warming and the ecological imbalance, we find it necessary to innovate products that are not only eco-friendly but also commercially viable."
The ASUS Bamboo Series Notebook uses Super Hybrid Engine that reduces the yearly CO2 emission by 12.3kg per notebook. Given that ASUS ships approximately 6 million notebooks per year, this works out to a massive 73.8 million kilograms of CO2 emission cut per year, which equates to saving 36 million trees annually.
Bamboo Notebook Specifications:
CPU + NB: Intel Core2 Duo Processor P8600 -Mobile Intel PM45 express chipset - Intel WiFi Link 5100
OS: Genuine Windows Vista
Memory: NVidia GeForce 9300M GS with TAG RAM up to 1536MB (depends on system memory).
HDD:    DDR2 800MHz, 2 x SODIMM up to 4GB (depends on Vista 64bits readiness) SATA HDD up to 320G/5400rpm, UltraSlim ODD built in 8-in-1 Card Reader, Fingerprint, TPM module.
Camera: Built-in 1.3M pixel Camera with ASUS SmartLogon & LED light
Battery: 300 x 220 x 25.3 - 31.6 mm (W x D x H), 6 cell + 3 cell
Net Weight: 1.57 kg
Price: Rs 1 10, 000
Warranty: 2 years global warranty/ 1 year warranty on battery
Image: Stanley Wu, country manager for notebook business, ASUS India displays the Bamboo Notebook in Mumbai. | Photograph: Arun Patil