Consultants who help lease these properties say this is the steepest decline at least in a decade.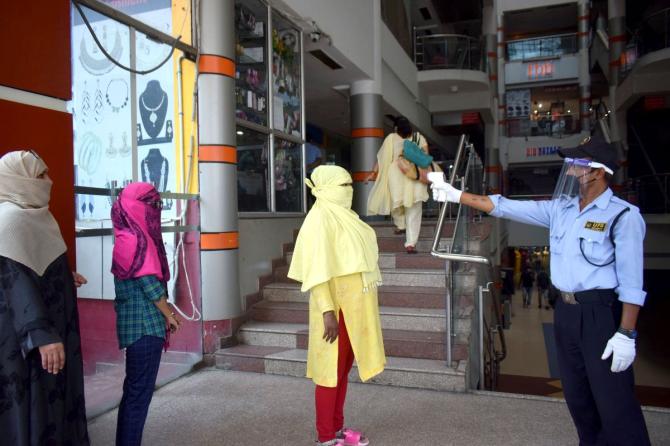 Mall rentals plunged 40 to 50 per cent in top cities in the first quarter of 2021 and could fall further, according to consultants who help lease these properties, with the second wave of Covid-19 hitting businesses across sectors. This is the steepest decline at least in a decade, they said.
"Basically, as most malls have moved from a minimum guarantee to a pure revenue-share model, the impact on actual rent received by developers is 40 to 50 per cent lower compared to pre-Covid times," said Susil S Dungarwal, founder of Beyond Squarefeet, a mall management and advisory firm.
Minimum guarantee means a fixed rent to be paid by a retailer to the mall developer, irrespective of business. In the revenue share model, both mall developers and retailers share revenues.
Dungarwal said the impact was the same, whether it was Bengaluru, Mumbai or Delhi, in terms of rents paid earlier and now. He said mall rents had fallen more than high street rents and were set to fall further.
Delhi's Khan Market, for instance, saw average monthly rentals drop by 8 to 17 per cent in Q1 of 2021 compared to the corresponding period last year. Likewise, high street markets of Mumbai also saw rentals decline between 5 per cent and 10 per cent, Anarock Retail said recently.
Malls are also giving longer revenue share options to retailers -- six months to 12 months -- due to the Covid situation, said another Mumbai-based consultant who did not want to be named.
"Prior to the pandemic, the revenue share period was for three to four months. Revenue share is the only way forward," the consultant said.
Rent waivers
Unlike the last lockdown, mall owners are divided this time over waiving rents. While some are planning to give waivers, others are not willing to give it.
For instance, a senior executive of a mall developer in the National Capital Region (NCR) said they were deliberating on giving rent waivers for April and May or the lockdown duration. "Everyone is waiting and watching. We will take a call by the middle of the month," he said.
Last year, most mall developers waived rents for three to six months.
However, Prozone Malls, which runs malls in Aurangabad and Coimbatore, has raised bills in April, said Bipin Gurnani, chief executive of the company. "I don't know what retailers will say but if this (lockdown) continues, it will be a challenge," he said.
Gurnani added that Prozone Malls had reduced the minimum guarantee by 25 per cent till March 31 but new rent bills were reset to the original agreements.
Rajneesh Mahajan, chief executive officer at K Rajeha Corp-owned Inorbit Malls, said he did not see as much anxiety as was last year among retailers and mall owners around rent negotiations. "Mall owners will use a combination of waivers, discounts and revenue-share, depending on the degree of comfort and how negotiations progress," he said.
Mukesh Kumar, chief executive officer, Infiniti Mall, added: "Fortunately, there is a template available in terms of our negotiations and arrangements with retailers last year. We will refer to this model, which includes discounts and waivers, wherever applicable."
Brigade Group's Orion malls, which saw a 90 per cent pre-Covid recovery in Q3, said it was hopeful that operations would be restored by mid-May. "Given the current volatile situation, it would be tough to immediately ascertain the exact impact on mall rentals during the second wave of the pandemic," said Sunil Munshi, assistant vice president, mall operations, Orion malls.
He said some retailers had approached them for rental waivers during the closedown. "In the absence of a support structure for malls, such as moratorium on debt obligations and payment deferment from power companies, the extent of liquidity of funds with mall operators will remain a critical challenge to tide over the cash flow disruptions," Munshi added.
However, retailers say this year's negotiations would be tricky given the situation in the country.
Anand Agarwal, chief financial officer, V-Mart Retail, said: "While last year there was a national lockdown, this year lockdowns are localised and uneven in nature. So, negotiations are a little tricky versus last year. So, if last year, there were rent waivers for the period of the lockdown and then there were discounts for three to six months to help retailers recover, this year, depending on the city, retailers and landlords will undertake discussions."
Agarwal said while larger mall owners appeared willing to support retail partners, smaller mall owners were fiscally constrained and remained less accommodative.