India's state-owned institutes have literally been forced to embrace technologies to go digital - however reluctantly. Till the museum reopen, the magic mantra has been "online", "cyber", "virtual" - a transition that has been less smooth for most art institutions than one might have hoped.
The first of a four-part series, Kishore Singh turns the gaze to some of India's leading art institutions to see how they are keeping the show going.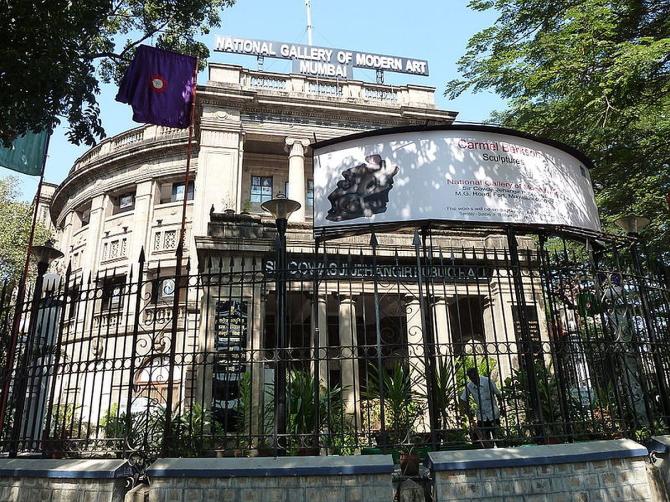 The "we're shut" signs are everywhere.
You can't make a pitstop at museums even online without being rebuffed by notices of closure.
Special shows and exhibitions have run past their close-by dates without being seen by visitors and have been extended by default - because loaned works cannot be returned.
Ironically, when they do open, the exhibitions will probably have to shut.
Museums haven't been favourite haunts for most visitors in India - even tourists are rarely taken there.
Their temporary closure, therefore, shouldn't have taken a toll, yet it has.
Staff have been exhausted into a state of ennui in many cases, the "not knowing" a source of anxiety at a time when reductivity in jobs has been paramount.
Can museums shut? Forever?
It hasn't come to that - thankfully - and probably won't, though most are still to open to the public.
Director general Adwaita Gadanayak of the showpiece National Gallery of Modern Art has a hearty laugh and says he comes to the Jaipur House estate in New Delhi every day to "supervise the garden".
That shouldn't come as a surprise given the extensive renovation he oversaw before Covid brought his exhibition calendar to a halt.
Why hasn't it opened yet?
"We were hoping to open on November 3," he tells me, "but we've pushed that ahead a little, but will definitely open in November."
Till then, like every other museum, the magic mantra has been "online", "cyber", "virtual" - a transition that has been less smooth for most art institutions than one might have hoped, given the digital world we inhabit.
India's state-owned institutes have literally been forced to embrace technologies to go digital - however reluctantly.
NGMA's poster artists have "virtual tours" consisting of slides of works from its collection - Nicholas Roerich, Gaganendranath Tagore, even one on "Bapu", which features artists' works with him as muse, or others made at his behest, such as those by Nandalal Bose.
Unfortunately, information on the actual artworks is scanty.
Virtual tours are on offer at other museums too, whether the National Museum in New Delhi, the Bhau Daji Lad or Chhatrapati Shivaji Maharaj Vastu Sangrahalaya in Mumbai, or the Victoria Memorial Hall (VMH) in Kolkata, with lesser or greater programming and online interface.
"This pandemic has propelled us into the future at great speed," says Tasneem Zakaria Mehta, who helms Bhau Daji Lad, and has struggled to make museums more relevant to the histories they depict and the geographies they occupy.
"I believe it is very important for museums to become forums for public opinion and debate.
"The past is only as relevant as we want it to be today.
"We must not lose sight of the fact that all readings of the past need to be contextualised."
That said, there is still no clarity on when BDL will open.
"We have not been given any indication by the government," she says.
Meanwhile, the museum's conservation and maintenance work continues apace.
Perhaps the only museums to open are in archaeological sites.
The Red Fort, now India's largest museum hub in its restored barracks, has a daily cap of 1,500 visitors.
At least some of those visitors make it to the different museums, of which Drishyakala, the only art museum in this World Heritage precinct, receives about 300 visitors daily, and between 500-700 visitors on weekends.
An exhibition of National Treasure artists remains its greatest draw.
NGMA's Gadanayak, meanwhile, is working on forthcoming exhibitions that include a Nandalal Bose retrospective, an exhibition on tantra art, as well as one on the masters.
It is also planning an exhibition on Ramkinkar Baij at Kolkata's Victoria Memorial Hall, as well as one on young artists at the recently renovated Belvedere House there that the prime minister inaugurated earlier this year.
In fact, Kolkata seems to have seized the moment with VMH collaborating with Ghare-Baire, the Old Currency Building museum-exhibition, with laudatory virtual programming, and now among the earliest art institutions to open to the public, post-Covid.
In New Delhi, it is the Kiran Nadar Museum of Art - also shut currently - that has taken virtual programming to its logical conclusion.
Its virtual tour of the Zarina Hashmi exhibition has embraced technology to offer an immersive experience that would not be out of place in the finest museums in the world.
This virtual technology is likely be the future for all forthcoming shows, even when planned in its physical location.
Director Roobina Karode certainly concurs.
"We've had to work harder," she says, "to ensure that the migration of the physical exhibition to a virtual space does not compromise the emotions or mood we have hoped to recreate."
The next phase will see a commentary or voice-over for the exhibition as cyber visitors move from one room to the next.
KNMA has used the pandemic "pause" to relook at its inventory, scale up its publishing programme, familiarise itself with digital tools, and to take a holistic approach in which art has become more integrated to embrace architecture and design.
It is also continuing to work on a museum show of Indian contemporary art at the prestigious Tretyakov Gallery in Moscow where protocols have changed to demand a physical distancing between displayed works at the museum.
The exhibition is scheduled - all else going well - to open sometime between June and September 2021.
Back home, KNMA wants to make a start by enabling museum visits capped at 10 persons booked through online slots available only on alternate dates before museums are allowed to open fully to the public.
That's as exclusive as a museum tour could get.
Photograph: Courtesy, Balaji Jagadesh/Wikimedia Commons