Vedanta group Chairman Anil Agarwal will give away 75 per cent of his wealth of $3.5 billion (about Rs 21,000 crore) to charity, which would make him corporate India's biggest donor to society.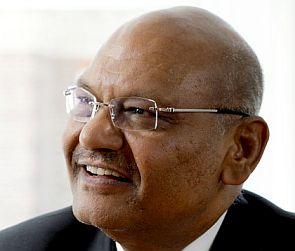 "It is important to give back what we earn for the greater good of society. Community programmes that work towards eradication of poverty, child welfare and women empowerment will be our focus for communities at large in our country. I am keen to invest and create a world-class, not-for-profit university in India that has the best-in-class education in liberal arts and humanities. My family supports my decision that 75 per cent of our wealth, which we gain as economic benefit, should be returned to society," Agarwal said.
The Vedanta chief, 61, announced this at an event in London to celebrate the 10th anniversary of flagship Vedanta's listing on the London Stock Exchange.
With his Rs 16,200-crore donation pledge, Agarwal follows a growing list of Indian entrepreneurs such as Wipro Chairman Azim Premji and stock broker Rakesh Jhunjhunwala, who are giving a substantial part of their wealth back to society, for charity.
Agarwal hasn't provided the details of how the funds will be spent and which charities will get the money.
Earlier, he had proposed setting up a multi-disciplinary, co-educational university near Puri in Odisha. The university was to be modelled on the lines of Stanford University.
Patna-born Agarwal, who started his journey as a scrap dealer in his teens, is today one of India's leading industrialists, with interests in metals (Sesa Sterlite) and oil & gas (Cairn India). He had earlier told this newspaper he would retire from all group companies to focus on charity work in India.
Agarwal said he took the decision of giving away his wealth after a meeting with Bill Gates, the world's second-richest person.
Gates has donated $28 billion of his $82-billion fortune to the Bill and Melinda Gates Foundation, the world's largest philanthropic organisation. The foundation has also been pledged $41 billion by Berkshire Hathaway chief and billionaire Warren Buffet.
Gates has donated $1 billion to social causes in India. He has also played an important role in eradication of polio in the country.
Recently, Infosys founder Krish Gopalakrishnan donated Rs 225 crore to Indian Institute of Science, Bangalore, for brain research. Nandan Nilekani, another Infosys founder, donated Rs 480 crore of his wealth of Rs 7,700 crore to the National Council of Applied Economic Research, an economic think-tank.
The Indian government has made it mandatory for Indian companies to spend pay 2 per cent of their profits on corporate social responsibility.
While the Mukesh Ambani-owned Reliance Industries spends on corporate social responsibility through Reliance Foundation, Ambani's personal contribution to charity isn't known.
The Tata group spends a substantial amount on charity through various trusts, which in turn own shares in Tata Sons, the group's holding company.
MAJOR DONORS IN INDIA
Wipro chairman Azim Premji pledged 25% of his wealth of $16 bn

Stock broker Rakesh Jhunjhunwala pledged 25% of his $1.25-bn wealth

HCL Chairman Shiv Nadar set aside 10% of his $11 bn

GMR Chairman GM Rao pledged 12.5% of his $2.6 bn
ON THE GLOBAL FRONT
In 2008, investor and philanthropist Bill Gates had donated $58 bn of his this entire wealth at that time to the Bill and Melinda Gates Foundation; he has also donated $1 bn to social causes in India

Berkshire Hathaway Chairman Warren Buffett has donated $41 billion to the Bill and Melinda Gates Foundation