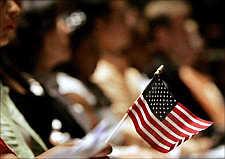 America Inc. is poised to begin a major lobbying effort to counter efforts by some lawmakers like Senator Charles Grassley, Iowa Republican, labour unions, and some organisations like the Institute of Electrical and Electronics Engineers to torpedo the H-1B visa program.

Ron Somers, President of the US-India Business Council, told India Abroad: "We are pulling together a similar advocacy team like what we did during the US-India civil nuclear initiative," to push through the deal through the US Congress over four years ago.

"It's very important that we once again re-emphasise the vitality of the US-India partnership, particularly in the knowledge economy and in the IT (information technology) sector," he said.

Somers reiterated that "it's important and essential for the success and the competitiveness of our American firms and our India colleagues. In other words, this is the new global economy and it involves the United States and India."

Grassley, the ranking member of the Senate Judiciary Committee, which has jurisdiction over immigration laws, has once again introduced legislation to reform the H-1B and the L-1 visa program - the latter for intra-company transfers, arguing that it is an effort to help sure Americans are given top consideration when applying for jobs and to root out fraud, which he has alleged over the years is rampant in these programs.

In earlier times, he has accused Indian blue-chip firms like Tata Consultancy Services, Infosys, Wipro and others, being a party to such fraud, which have been vehemently denied by these conglomerates.

Grassley said his bill seeks to increase enforcement, modify wage requirements and ensure protection for visa holders and American workers (India Abroad, March 29).

Meanwhile, the vice-president of IEEE had alleged in Congressional testimony that the H-1B program is rampant with gender bias, which has been rebutted by Vivek Wadhwa, crusader for immigration reform to retain high-skilled workers and expand the H-1B program as a racist campaign to slander the H-1B program (India Abroad, March 29).

Somers told India Abroad that the USIBC, had reached out to Grassley to dissuade him from going after the H-1B program, which he has made a habit of doing over the past few years, which some sources have said is personal since he doesn't receive any contributions to his campaign coffers from IT firms, including American affiliates of Indian IT heavyweights as he once did when Sanjay Puri, founder and president and IT entrepreneur would organise $10,000
breakfasts with him and other key US Senators for Indian American entrepreneurs.
"We have appealed to Mr Grassley and to others in the 'gang of eight' (a group of bipartisan US Senators who have introduced comprehensive immigration reform which has the blessings of the White House) to not be frustrating this emerging knowledge economy that is so important and vital not just to these Indian IT firms, but to the very competitiveness of American companies on the global stage."
Somers explained: "In other words, more and more now, we are working 24 hours a day, seven days a week. Once we go to bed at night, the India firms are picking up some of the work load to the point where we are developing and innovating 24 hours a day/ seven days a week and that's enabling American companies to remain strong and to remain globally competitive."
He warned that "to break that down by limiting the movement of technical professionals back and forth between our countries would be devastating to our companies, not just to the Indian IT firms that are providing this overnight innovation and support."
Indian Ambassador Nirupama Rao also bemoaned these efforts by the likes of Grassley and others, saying that "when it comes to the movement of IT professionals and experts from India, obviously we would liker to see that there are no significant obstacles placed in the movement of these professionals."
She too warned that this would be counter-productive "because they contribute to economic well-being in this country - in the United States."
"So, we should not lose sight of the larger picture when it comes to this," Rao added.