The National Aviation Company Ltd, which runs state-owned Air India, is planning to convert five of its Airbus 320 planes into low-cost carriers under the Air India Express brand. The launches would be in the winter schedule and on 10 sectors.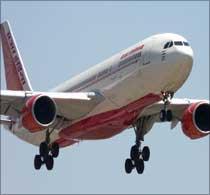 A normal A320 has 124 economy class seats and 20 J-class seats. After the conversion, making it a full economy class plane, the number of seats increases to 168.
These converted aircraft, say sources, would fly on 10 sectors. These include flights to Sharjah from Hyderabad, Cochin, Trivandrum, Amritsar and Lucknow, Calicut-Dubai, Chennai-Kuala Lumpur, and Chennai-Colombo. An Air India spokesperson said the routes would be decided next week.
However, industry sources say Calicut-Dubai and Chennai-Colombo are routes where there is a demand for business class. Business class flyers account for 12 per cent of the revenue and many say the strategy to move more and more aircraft into a single configuration could have an adverse impact on the company's total revenues from these flights.
A-I Express operates 193 weekly flights to 14 international destinations – Dubai, Sharjah, Abu Dhabi, Al Ain, Muscat, Salalah, Singapore, Kuala Lumpur, Bangkok, Bahrain, Doha, Kuwait, Colombo and Dhaka from 17 Indian cities.
Nacil had losses of Rs 5,000 crore on its books by the end of March 2009. It had also announced that it would launch A-I Express flights on the domestic routes.
The launch was to happen in September, which has been deferred to October. The airline has debt of Rs 16,000 crore (Rs 160 billion) - Rs 10,000 crore (Rs 100 billion) high-cost debt and Rs 6,000 crore (Rs 60 billion) low-cost debt - and has requested the government to provide a letter of comfort to convert the high-cost debt to low-cost.
The government has asked the airline to aggressively reduce costs and it may receive an equity infusion of Rs 2,000 crore (Rs 20 billion) by this year-end.
The airline had also ordered 111 aircraft (68 from Boeing and 43 from Airbus) to augment its fleet. The orders include eight B777-200LRs, 15 B777-300ERs, 27 B787 Dreamliners, 18 B737-800s, 19 A319s, 20 A321s and four A320s.
Out of which the airline has received deliveries of 24 Boeing (five B777-200LRs, five B777-300ERs and 15 B737-800s) and 21 Airbus (12 A321s and nine A319s).