The hotel brand goes by the 'great value, great savings' tagline.
The AirAsia group is set to introduce its low-cost hotel business in India, just like the budget air carrier.
For every facility you ask for in their establishments, branded as Tune Hotels, you pay separately - whether it is 24-hour air conditioning, television, towels or toiletry kit. The daily rate will be Rs 2,000-2,500 but will go for Rs 599 for early bookers. The idea is not to let any room go unmonetised, even if the booking is done at a low rate.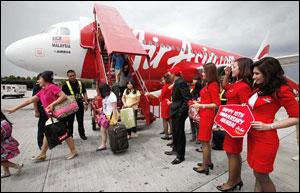 Tune Hotels, owned by AirAsia's Tony Fernandes, is investing $30 million (around Rs 160 crore) in a 60:40 joint venture with Apodis Hotels. The company will set up 20 properties in India in the next three years. The first one will open on May 15, in Ahmedabad.
"When we first started, we thought people won't understand our business model. It has worked well for us," said Mark Lankester, group chief executive officer, Tune Hotels.
On the airline side, the company has tied up with the Tatas. For hotels, it has positioned itself on the same pitch as the Tatas' budget hotel brand, Ginger. "I don't think there is any competition. We are hopeful we will be welcomed in the Indian market," added Lankester.
To customise its hotels to suit the Indian market, the hotel will have food and beverage options. There will be no room service but there will be an in-house restaurant, the name for which is still in the works.
The company is also betting highly on the marriage market in India and will provide a banquet facility in most hotels to tap the segment.
Tune Hotels has wanted to open a property in India for some years but its plans were delayed due to the (global) financial crisis and a drop in lending by banks. The company is planning to set up hotels in Surat, Bhavnagar, Jaipur, Agra and Delhi in the next three years.
The hotel brand goes by the 'great value, great savings' tagline. The hotels have, as mentioned earlier, a low cost model, similar to the airline, and use a "self-service online booking system". The daily rate for a room in a Tune Hotel can go as low as Rs 180 during promotional periods.
While the company will sell its hotels on travel portals like Expedia, MakeMyTrip, Cleartrip, etc, it claims the prices on its own website will always be more attractive. "We want to have repeat customers. We even give promotional offers a year in advance in some cases," says Lankester.
So far, the company has hired 20 people for its 100-room hotel in Ahmedabad. With more properties in the pipeline, it will get at least 500 more people on board. "We see high growth potential in India. We haven't even rushed to China, as we think India has a solid ground for growth," Lankester said.