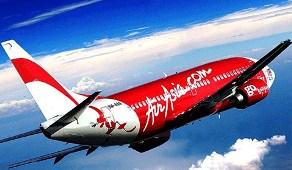 SpiceJet is unperturbed by Malaysian low-cost airline AirAsia's foray into India, said Chief Executive Officer Neil Mills on Sunday.

The airline's better placed and its current focus is to expand its Bombardier Q-400 fleet, said the chief executive officer.

AirAsia plans to launch its India operations later this year from its Chennai base, using three to four Airbus A320 planes.

This will bring the airline into head-on competition with SpiceJet, which commands 30 per cent seat capacity share from the Chennai market.

"This is not Malaysia.

AirAsia has been aggressive in its historic markets like Malaysia and Indonesia, but in Japan and the Philippines, it has not grown much.

"The airline management will be logical (about pricing in India) and they have to answer to their shareholders.

"Moreover, airlines in India are not allowed to charge a fee for baggage or preferential seats.

"The Aircraft Rules of 1937 do not allow it," said Mills, referring to AirAsia's reliance on ancillary revenue.

According to Mills, SpiceJet is able to run efficient, low-cost operations.

"We have a strong balance sheet and we will be able to face competition. The
biggest impact will be on those airlines with weak balance sheets and high debts."
On the high cost of operations in India, Mills said, "It is not an easy environment to operate and grow."
SpiceJet has a mixed fleet of turbo prop Bombardier Q-400s and Boeing 737s.
In the third quarter of financial year 2013, it reported a profit of Rs 102 crore (Rs 1.02 billion).
Mills said the airline currently has 15 Q-400 planes and there are plans to add five more Q-400s this year, on lease or purchase.
"There is not enough supply on tier-II and tier-III routes and there is high demand. We have achieved break-even on these routes," he said.
The airline is also planning to expand its international routes and at present is exploring routes in Gulf and Commonwealth of Independent States countries.
He also cautioned against unrealistic fare wars. "Price of fuel continues to remain high and it will be brave to make a demand growth forecast.
"We were expecting some relief in taxes on aviation turbine fuel in the Budget and are disappointed that has not come through.
"Irrational pricing is on with two main players offering discount fares in June.
"Why would you do that when the demand for travel in June is usually good? We, too, will have to match the fare levels."