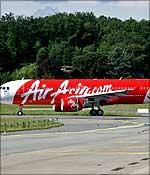 Malaysia's airline AirAsia announced on Monday the addition of a second daily flight to Tiruchirapalli or Trichy beginning September 1.
"Tiruchirapalli is a popular destination for Hindus in Malaysia as it has abundant temples which make it a pilgrimage site for Hindus," AirAsia Group commercial regional head Kathleen Tan said in a statement here, adding "there was an increase in visitors from Trichy who were using Kuala Lumpur as a connecting gateway to over 130 routes in South East Asia and beyond".
"In fact, within the first month of flying to India, we enjoyed a load factor of 100 per cent on this route," Tan said, adding that it was now time to increase the frequency on the route.
Tiruchirapalli was AirAsia's first destination in India since its inception on December 1 last year.
Ethnic Indians form 8 percent of Malayia's population of 27 million and majority of them are Tamil Hindus.
AirAsia said it will offer a fare of 129 Ringgit (about 1700 rupees) for a travel period between September 1 this year and April 30 next year to celebrate the introduction of the flight. The booking period for the flight starts from July 28 to Aug 2, 2009.
Tan said the airline was proud to be servicing an under-served route and opening up this market to the world.