Competition Commission of India (CCI) has issued a show cause notice to the parties with respect to the proposed merger of Tata Group airlines Vistara and Air India, according to a source.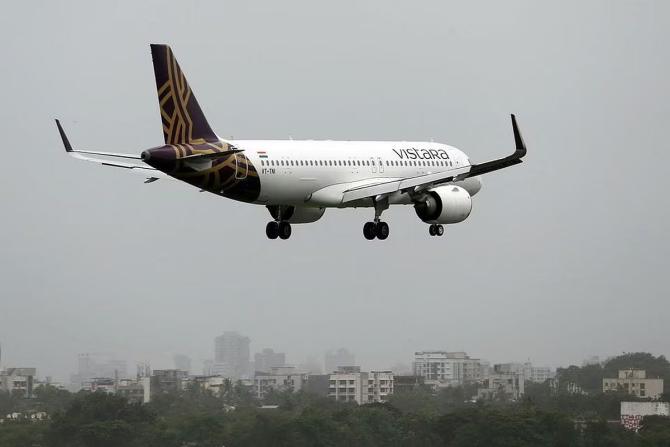 The fair trade watchdog issues notice asking why an investigation should not be initiated only after forming a prima-facie opinion that the deal could adversely impact competition in the marketplace.
Vistara and Air India are the two full-service carriers that are part of the Tata Group, and Singapore Airlines holds a 49 per cent stake in Vistara.
In November last year, Tata Group announced the merger of Vistara with Air India under a deal wherein Singapore Airlines will also acquire a 25.1 per cent stake in Air India.
The deal would mark a major consolidation in India's fast-growing aviation space.
The source on Tuesday said CCI has issued a show cause notice on the deal.
Air India did not comment.
The approval for the proposed combination was sought from CCI in April this year.
The parties to the combination are Tata Sons Pvt Ltd (TSPL), Air India Ltd, Tata SIA Airlines Ltd (TSAL) and Singapore Airlines Ltd.
The deal will make Air India the country's largest international carrier and second-largest domestic carrier.
Under the competition law, the regulator has the power to carry out a detailed probe before approving a merger or acquisition in case there are concerns about possible anti-competitive practices about the deal.
Section 29 of the Competition Act provides the procedures for investigations of combinations.
In CCI parlance, combinations refer to mergers and acquisitions.
"Where the Commission is of the opinion that a combination is likely to cause, or has caused an appreciable adverse effect on competition within the relevant market in India, it shall issue a notice to show cause to the parties to combination calling upon them to respond within thirty days of the receipt of the notice, as to why investigation in respect of such combination should not be conducted," as per the section.
In case, the regulator is not satisfied with the responses, it can go to the second stage wherein the parties will be asked to make the details of the proposed deal public and comments will be sought.
Besides, CCI can seek additional information from the parties before taking a final decision on the deal.
There have also been instances where parties to a combination submitted remedial measures to address anti-competitive concerns and after accepting them, CCI has given its conditional approvals.