As part of its reconfiguration exercise, Air India is evaluating a plan to drop first-class seats in its long-haul Boeing 777 planes. The airline flies these wide-body planes to the US, Europe, China, Japan, Korea and Saudi Arabia.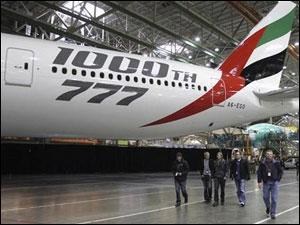 It has 12 Boeing 777-300 ERs and eight 777-200 LRs. For some time, the airline has been trying to sell or lease five of the latter model of aircraft but has found no takers. This is because the aircraft's current seat configuration is not ideal for medium-haul routes and makes those commercially unviable to operate.
Air India's Boeing 777-200 LRs have 238 seats, including eight first-class ones (8+35+195), while the 300-ERs have 342 seats, four of those first-class (4+35+303).
Another reason for the airline to consider reconfiguration is the poor first-class occupancy.
"The occupancy in the first-class seats is 25-30 per cent - often after including ministers travelling in those and passenger upgrades, which generate no revenue for the airline. The idea is to drop first-class seats and add economy-class ones. We can then deploy these planes on high-density routes like those to Saudi Arabia which have good demand," an Air India source said.
The airline continues to make losses on a majority of its international routes. Overall, it expects to post a modest operating profit of Rs 65 crore (Rs 650 million) in 2012-13, banking on the Boeing 787 Dreamliners for its turnaround. The 787s, which have been grounded since January following battery defects, are to replace the 777s on its Europe and Far-East routes. These will also be used on the new routes like Sydney and Melbourne. Air India currently has six Boeing 787s and has 27 on order.
The airline had been flying the 787s to Paris and Frankfurt but with these planes grounded, it had to redeploy the 777s on these routes. The carrier's officials maintain various options with regard to Boeing 777s, including seat reconfiguration, are being explored.
"Our first option is to sell these planes," an official said. Another said the airline was yet to firm up its decision and was evaluating options.
An airline needs to carry out technical analysis before reconfiguring seats and the aircraft requires certification from regulatory authorities, including the Directorate General of Civil Aviation and the Federal Aviation Administration.
Rival Jet Airways, too, is reconfiguring its Boeing 777-300 ERs, adding more seats in economy section. However, the airline is not removing first-class or business seats in that plane. Jet flies its Boeing 777s to London and has eight first-class seats in each plane. The economy section in Jet's 777s has nine seats in a row; it is adding an extra seat in each row.