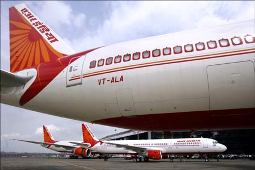 For the second straight year, the Union Budget has failed to meet Air India's expectations.

For 2013-14, the airline was allocated Rs 5,000 crore (Rs 50 billion) of equity infusion, against the demand of Rs 8,574 crore (Rs 85.74 billion), sources told Business Standard.

This would hit the timely payment of dues to vendors, as well as the carrier's revival.

Last year the Cabinet had approved a turnaround plan for Air India and sanctioned equity infusion of Rs 30,000 crore (Rs 300 billion) over a period of eight years.

The government had also agreed to give a guarantee for the airline's debt restructuring plan.

This financial year, Air India had expected infusion of Rs 11,014 crore (Rs 110.14 billion).

However, it received only Rs 6,000 crore (Rs 60 billion).

For 2013-14, it had sought Rs 3,564 crore (Rs 35.64 billion) in addition to the Rs 5,000 crore (Rs 50 billion) it hadn't received this financial year.

Air India's total debt stands at about Rs 43,000 crore (Rs 430 billion).

It also has dues worth hundreds of crores to oil companies, airports and vendors. Last December, the government had said Air India owed Rs 4,064 crore (Rs 40.64 billion) to oil companies.

It owes about Rs 1,300 crore (Rs 13 billion) to airport operators, the
majority of it to the Airports Authority of India.
Owing to non-clearance of dues, Air India doesn't get concessional rates for fuel.
Earlier, it had said while Jet Airways and Lufthansa had secured discounts, it was denied any such concession.
Recently, Air India struck a deal with oil companies to buy aviation fuel at a discount of about seven per cent.
This would help it save Rs 480 crore (Rs 4.8 billion) on fuel consumption annually.
However, it is yet to receive fuel at concessional rates.
"We are receiving Rs 5,000 crore (Rs 50 billion) and this will able us stabilise our financial restructuring and turnaround plan.
"Our performance parameters have improved. "The loads and on-time performance have improved, too.
"The equity amount would be used to pay oil companies, airports and vendors and for interest payment on loans. "We have made salary payments till January and allowances have been paid up to November. "We will seek additional funds in the supplementary budget," said a senior airline executive.
Air India's earnings before interest, taxes, depreciation, and amortisation turned positive in the quarter ended December.
Operating revenue rose 13.5 per cent, compared to the year-ago period, while the load factor rose from 66.5 per cent to 69.5 per cent. The airline's cash losses fell by Rs 511 crore (Rs 5.11billion).