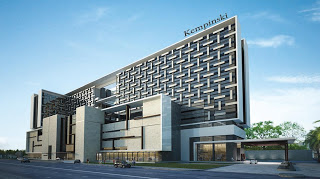 Germany-based luxury hotel chain Kempinski, which started operating its first India property in Delhi last year under a management contract, is planning to open five more hotels in the country by 2015.

Kempinski has a marketing alliance with Leela Group, an arrangement that will end in January 2014, according to Vella Ramasawmy, general manager, Kempinski Ambience Hotel, Delhi.

"We want to build our independent identity in India as the first European luxury hospitality brand.

"We will put in equity if we think it is required in strategic locations," said Ramasawmy.

Udaipur, Mumbai and Bangalore are among the cities the company has identified to set up operations.

Kempinski has debuted in Delhi's Shahdara area with a 480-room property, which it claims is the highest room inventory for any single property in the capital.

The biggest draw for the hotel, which opened in December 2012, has been the MICE business -- meetings, incentives, conventions and events.

"Gurgaon is saturated and nothing is coming up in Noida. This is an up and coming location.

"We have always gone to places where no one wants to go like Iraq and Africa and been a success,"
Ramasawmy said.
While the occupancy levels for the hotel within three months of the opening are around 35 per cent, the company is expecting a spurt in the third quarter.
The average tariff is around Rs 8,000 per room night.
"We are in a trial mode right now, but the forward bookings look encouraging.
"We are completely booked for the week around the F1 race already.
"There are also five-six medical conferences coming up, which will bring us a lot of business," Ramasawmy added.
The company has also taken it upon itself to develop nearby area to make it tourist- friendly such as developing parks.
Currently, beside Kempinski, the only other hotel present in the area is Park Plaza.
The German hotel chain does not operate a bouquet of brands in different categories and plans to stick to its luxury positioning.
The company, however, has customised its design to make it more colourful and vibrant.
Asked whether slowdown is playing a dampener for the hotel industry, Ramasawmy said: "It's because some economies have not been doing well.
"But after elections, the country will be back on its feet."