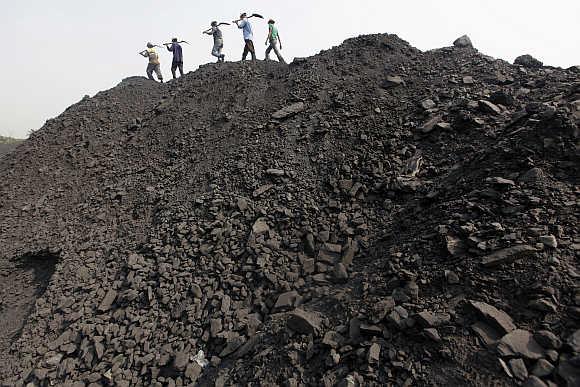 Change of holding ownership of affiliate firm Adani Transmission may cause loss of 3 projects

Adani Power could lose three key transmission projects, worth Rs 3,662 crore (Rs 36.62 billion), that it had won last month, due to a change of holding ownership of its affiliate company Adani Transmission.

Adani Power had bagged three projects tendered by Power Finance Corporation -- Sipat, Chhattisgarh A and B.
While the letter of intent was issued for all three projects to the company on July 28, it wrote to Power Finance Corporation saying these projects would be owned and executed by Adani Transmission, a subsidiary of Adani Enterprises.

After Adani Power's demerger from Adani Enterprises, the ownership of Adani Enterprises, Adani Transmission and Adani Power is with SB Adani Family Trust.
The trust has a 56.48 per cent equity holding in Adani Transmission, according to Adani Enterprises' submission in the Gujarat High Court in June.

Emailed queries, phone calls and text messages to an Adani Group spokesperson had not elicited any response till the time of going to press.

Sources said the new ownership structure was in violation of the bidding rules and the Companies Act.
Auction rules restrict trusts from being the controlling entity of companies bidding for power projects.

Power Finance Corporation had communicated to Adani Power that Adani Transmission did not qualify to be the owner of these projects, said a person close to the development.
PFC has, however, given Adani Power the option to transfer 49 per cent equity to Adani Transmission until five years after the date of commissioning of the project. After five years, Adani Power could transfer 100 per cent equity to Adani Transmission.

PFC allows change of ownership in the "bidding company" defined as either a 'single company or a consortium of companies'.
A company is any legal entity incorporated in accordance with the provisions of the Companies Act, 2013, or of the Companies Act, 1956.
The parent company of the bidder should have 26 per cent voting rights in it.

The objective of a trust as defined under Section 3 of the Indian Trust Act, 1882, is "charitable, religious, welfare of member, families, employees, etc.
"A trust is not a separate legal entity."

The spokesperson for PFC -- a wholly owned subsidiary of the power ministry and the apex organisation for financing and tendering power projects -- refused to comment on the matter, saying it was a legal issue and under discussion.

Four big transmission projects went under the hammer last month.
Three of those, aimed at strengthening power evacuation in Chhattisgarh, were awarded to Adani Power.

The company outbid state-owned Power Grid Corporation and private majors Sterlite Grid and Jindal Power. Larsen & Toubro, Essel Infra, Kalpataru Power, and PowerGrid pulled out of bidding for at least one of the three projects.

CHANGED STRUCTURE

Jan 2015
At the time of the RfQ issue, Adani Transmission Ltd was wholly owned by Adani Enterprises Ltd, a listed firm
In its qualification, Adani Power Ltd mentioned ATL as an entity under common control with the bidder
Jun 2015
Under a Gujarat court order, the group's power business was demerged from AEL
Ownership structure was changed -- ATL now was 56.48% owned by S B Adani Family Trust
Jul 2015
APL won three projects -- Chhattisgarh A (Rs 823 crore or Rs 8.23 billion), Chhattisgarh B (Rs 1,976 crore or Rs 19.76 billion) and Sipat (Rs 863 crore or Rs 8.63 billion)
APL requested the projects be owned and executed by ATL after allotment
ATL now majority owned by a private family trust