An analyst says, due to excess capacity, investment in manufacturing will not be forthcoming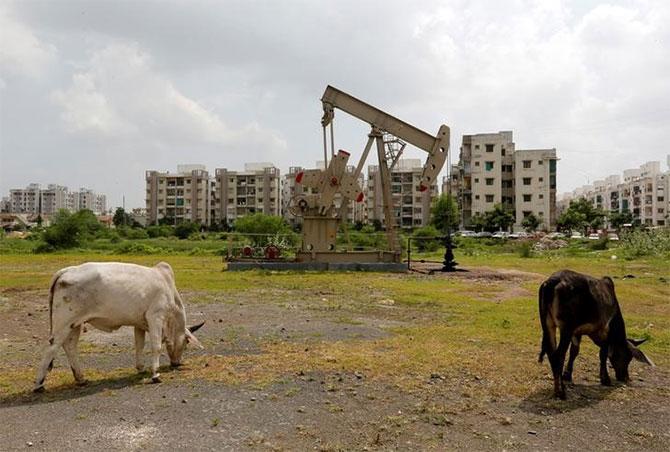 At the start of financial year 2016-17, there seemed to be a government spending push, to thereby revive the private sector's investment cycle in the infrastructure and energy spaces.
As the next financial year begins, the wait for private investments might stretch by another year, say sector experts.
"In manufacturing, there is excess capacity and so, investment will not be forthcoming. In infra, there is uncertainty; also the issue of funding, with banks wary of lending to projects here, where there is a concentration of non-operating assets," says Madan Sabnavis, chief economist at CARE Ratings.
In 2016-2017, in addition to Union Budget allocations to the infra and energy sectors, government-owned companies in these segments made significant investment.
Analysts say these had helped various private companies to survive and the next 12 months would decide if private investments will begin trickling in.
In the energy sector, for instance, power producer NTPC spent Rs 17,521 crore (Rs 175.21 billion) in the first nine months of FY17; it had spent Rs 16,156 crore (Rs 161.56 billion) in the same period a year before.
State-run oil companies in the first 11 months of FY17 had spent Rs 91,781 crore (Rs 917.81 billion), higher than the combined target of Rs 87,603 crore (Rs 876.03 billion).
"Construction companies have seen their order books filling and the construction cycle has picked up due to the government spending. However, private investment in infrastructure remains muted.
Though some new developers are emerging, solving the NPA (non-performing assets) issue remains a prerequisite to bringing back private investment. With early signs in deal activity and the government considering ways to resolve the financial stress (at banks), the next six to 12 months could be interesting," said Manish Agarwal, partner at consultancy PricewaterhouseCoopers.
Indian Railways, this newspaper had earlier reported, spent Rs 68,059 crore (Rs 680.59 billion) in the first nine months of FY17. "Here, there is scope for private investment to come in the station development segment.
In this, I expect commitments to be made in the current financial year, with actual private to start coming in only after 12 months. Other ambitious projects like the bullet trains and the dedicated freight corridor projects will take longer to see any private investments," said Vishwas Udgirkar, senior director, Deloitte India.

In roads, National Highways Authority of India had in the first 10 months of FY17 awarded engineering, procurement and construction (EPC) projects worth Rs 17,968 crore (Rs 179.68 billion).
Udgirkar says FY18 could see some private investments, based on the financial closures achieved for hybrid annuity model projects in FY17.
"We might see this forming in capital investments this financial year. EPC projects and public spending through these have helped the private companies to survive. Whether it has helped make the private sector financially healthy to reinvest is difficult to say," he added.
Some public sector firms are expected to continue with their capital expenditure (capex) plans. NTPC aims to invest another Rs 30,000 crore (Rs 300 billion) on a standalone basis in FY18.
"It shall be used for capex of our upcoming hydro and thermal projects of over 21,000 megawatt in construction, along with new solar and wind capacities, expansions, etc," the company said in an email response. Hindustan Petro Corp said it planned to spend Rs 7,000 crore (Rs 70 billion), marginally higher than the capex in FY17.
Photograph: Amit Dave/Reuters