Mahindra Satyam (formerly Satyam Computer Services Limited) on Sunday said that a group of investors led by Aberdeen Asset Management have claimed damages of over $150 million (approximately 750 crore) from the company for the losses they suffered post the confession of accounting frauds by its founder B Ramalinga Raju in 2009.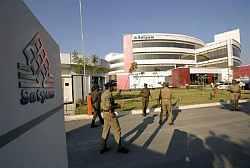 In a notice sent to Mahindra Satyam, Aberdeen Global and the other investors have informed that they had filed a claim before the High Court of Justice, Queen' Bench Division of Commercial Court in the UK. The investors have also claimed an interest at the rate of 8 per cent on damages.

The new claim may pose legal hurdles for Mahindra Satyam, which recently announced its merger with Tech Mahindra, the company that bought it in April 2009.

A senior official of Mahindra Satyam pleading anonymity said that the company would respond to the claims "after connecting to our legal counsels."

"We have already informed the bourses in the last quarter itself that there are a few investors' claims on losses. We now received a formal notice from the Aberdeen Group and our next step is to go to the court," the official added.

In a note to the investors post its third quarter results ended December 31, 2011, Mahindra Satyam had stated that Aberdeen Asset Management and certain non-US claimant-funds had given notice of potential proceedings against the company for the losses. The investors had "initially quantified the alleged losses at around $283 million. However, since then, the list of claimant-funds has undergone significant change and the losses allegedly sustained by them have not been specified," the company had stated.

Apart from the claim by Aberdeen Asset Management, another suit filed by the Aberdeen Group along with some other American Depository Receipt holders in Nov 2009 is pending in the US courts. It had claimed losses of over $68 million. Since then, the new management of the company, Tech Mahindra, has been looking for an out-of-court settlement with the Aberdeen Group and clear all legal hurdles.

Satyam had been facing a series of legal hurdles ever since it got acquired by Tech Mahindra. While many of these have been settled, the company is still facing a tax claim of Rs 617crore from the Income Tax department in India.

Some of the litigations solved by the management include, class action lawsuit that was resolved for $125 million, Upaid litigation for $70 million and SEC regulatory litigation involving a sum of $10 million.