Given the developments, analysts do not foresee a quick recovery. Global markets likely to dictate trend.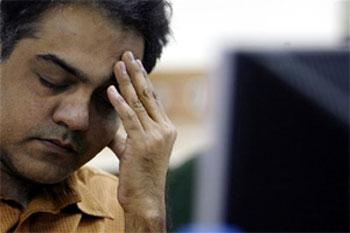 Concerns regarding a global economic slowdown -- soft commodity prices, especially crude oil, developments in China, and the banks in Greece -- have seen the global markets move south thus far in calendar year 2016 (CY16).

On the domestic front, sub-par corporate results for the December quarter, especially of the public sector banks (PSBs), have added to the woes.
With the benchmark indices hitting fresh 52-week lows on Wednesday, the S&P BSE Sensex has now plunged by about 6,300 points from the record all-time high of 30,024.74 hit on March 4, 2015, during intra-day trade.
The Nifty50, too, slipped below 7,200 levels in intra-day deals on Wednesday, its lowest level seen since May 30, 2015. It has slipped over 1,900 points, or around 21%, from its all-time high of 9,119.20 hit on March 4, 2015.
Given the developments, analysts do not foresee a quick recovery for the markets.
In the immediate term, market participants are now awaiting the statement of US Fed Chair Janet Yellen for cues on the outlook for interest rates in the US.
Chinese markets that are shut on account of Lunar New Year and have not been exposed to the turmoil on account of developments in Europe will open next week.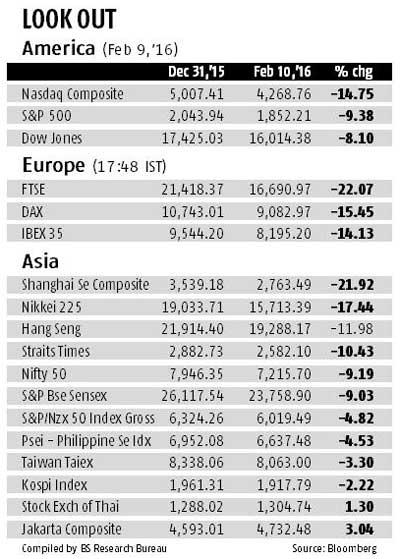 This is also likely to have a bearing on the overall global sentiment in the short run, analysts say.
Andrew Holland, CEO (Investment Advisory), Ambit Capital, explains: "There are a number of negatives across the globe and I don't know how many are real, or it is just fear. I don't think the pain is going to go away quickly. Even after years of unprecedented global liquidity, economies are still weak. The big question is if we are going into recession. This will depend on China. The markets are also awaiting Yellen's comments."
"The markets are in a zone where they are really grappling. Unfortunately, there are too many mixed signals that are being seen as a negative - from the possibility of the US increasing rates too early, developments with regards to Deutsche Bank, fall in oil prices, etc. Investors need to stay on the sidelines and let the negatives play out. It's all about protection of capital right now," he adds.
Rakesh Arora, managing director and head of research at Macquarie Capital Securities (India) also believes that the fall seen in the Indian markets is on account of global factors.
"It is difficult to say where the bottom will be. However, valuations are cheap and a lot of stocks look attractive. So, if someone has more than a year's view, it is a good time to buy. We still maintain a December-end target of 9,200 for the Nifty," he says.
For Tirthankar Patnaik, India Strategist at Japan-based Mizuho Bank, the road ahead for Indian markets depends on how soon the global markets can return to stability.
"In case there is incremental pain in the global markets over the next couple of weeks, Indian benchmarks can correct another 10% - 12% from here on, i.e. till around 6,400 on the Nifty. As of now, the global markets do remain unstable and I do not see capital flows coming back to India or the emerging markets," he cautions.
As regards key levels, U R Bhat, managing director, Dalton Capital Advisors, believes that the Nifty50 index needs to breach 7,200 very convincingly and it needs to do that and stay below that level for the next leg of downside.
"However, there is strong support at 7,100 levels and I do not expect that to be broken, unless there is a major negative event globally. The markets should get a fillip from the upcoming Union Budget," he says.
Raamdeo Agarwal, joint managing director, Motilal Oswal Financial Services, however, remains bullish. He believes that the fall presents a good opportunity for investors to buy from a long-term perspective.
"It is a good time to buy and not to sell. I still believe that the markets can double from here on in the next five years," he says.
Arora of Macquarie says that since banks have been the worst hit in this sell-off, they seem to be a good investment option.
He also expects the consumption theme to do well once the government implements the recommendations of the 7th Pay Commission.