'He is a role model for Indian industry.'
Debasis Mohapatra reports.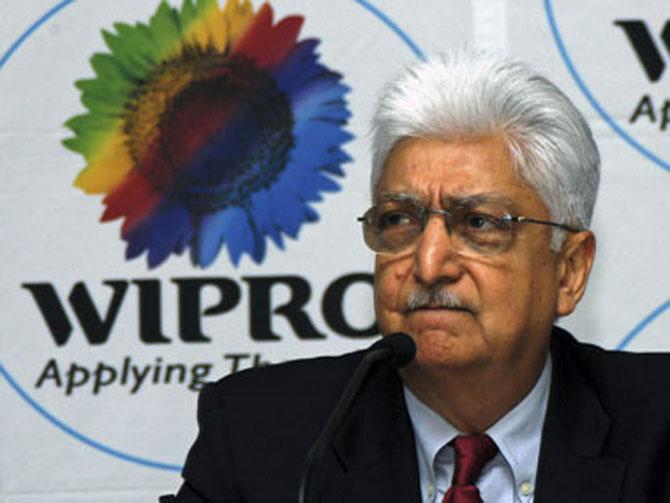 It is one thing to be successful and another to make others benefit from your success.
As Wipro's founder and executive chairman, Azim Premji decides to pass on the baton to the next generation, society at large will remember him more as a philanthropist than anything else.
This is precisely because of his active pursuit of compassionate capitalism, through which Premji has pledged to give most of his wealth back to society.
"In many senses, Premji is well ahead of other Indian business leaders because he has given the largest grant in Indian history to a philanthropic organisation," says T V Mohandas Pai, former chief financial officer and board member of Infosys.
"Hopefully, with Premji spending more time in philanthropic activities, the impact of the Azim Premji Foundation will be much more in coming years," Pai adds.
"He is a role model for Indian industry and is the 'Bharat Ratna' among Indian businessmen," says Pai who has seen this corporate tycoon from close quarters.
So far, Premji has committed Rs 1.45 trillion ($21 billion) for the Azim Premji Foundation, which is equivalent to 67% of the economic ownership of Wipro.
In wealth terms, this is the highest commitment by any Indian business tycoon towards charitable activities.
The Azim Premji Foundation, set up in 2001, works to improve access to primary education in India, including some of its most disadvantaged parts.
Premji's philanthropic initiatives also help in improving the lives of street children and the disabled.
The foundation also runs the Azim Premji University in Bengaluru.
"His inclination to give back to society is deeply rooted in his personal traits. Despite being a successful corporate leader, he leads a simple life, takes economy class flights on domestic routes apart from maintaining high standards of ethics in all his business dealings," says Pareekh Jain, an IT outsourcing advisor and founder of Pareekh Consulting.
Premji was the first Indian to sign the Bill Gates and Warren Buffet's Giving Pledge, under which he commits to spend 50 per cent of his wealth on various social causes.
Currently, the Azim Premji Foundation works through a network of field institutes in over 47 districts in six states, special-focus schools in at least six backward districts, a varsity in Bengaluru, and other non-profit partners.
It works in states such as Karnataka, Chhattisgarh, Madhya Pradesh, Telangana, Rajasthan and Uttarakhand, and the Union Territory of Puducherry.
The foundation provides grants to around 150 NGOs for three- to five-year projects in areas of supporting differently-abled people and orphans, drug abuse control, violence against women, trafficking, among others.
Sources said the annual grants given by the foundation were more than Rs 100 crore/Rs 1 billion.
Corporate governance officials said Premji has demonstrated that a successful business can be built on an ethical foundation with a social purpose.
"Premji has shown that if there is no trusteeship of the wealth, it can be easily destroyed. It is worth emulating for other business houses," says a corporate governance expert.