He is betting on emerging firms to generate ideas and build wealth through Premji Invest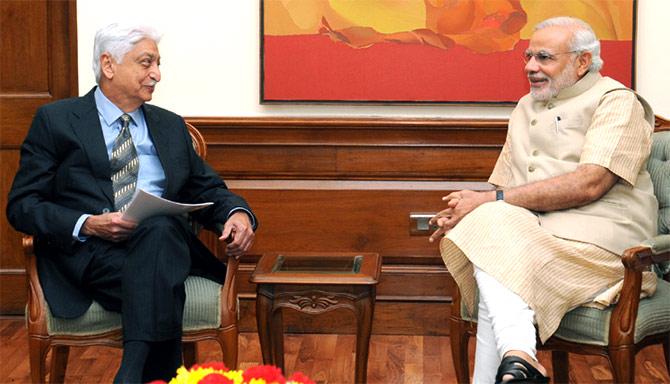 On Wednesday, Wipro Chairman Azim Premji completed 50 years in office.
At 21, Premji had to rush back as a student from Stanford University, California, to India to take over Wipro soon after his father's death.
He transformed the vegetable oil maker into a tech behemoth. Premji is betting on emerging firms to generate ideas and build wealth through Premji Invest, the $2-billion personal investment arm.
Over the past decade or so, Premji had committed a significant part of his personal wealth in philanthropy, too.
Premji completes 50 years at Wipro

In Feb 1946, firm went for an IPO
Azim Premji took over as chairman in 1966, at the age of 21
In 1977, firm's name was changed from Western India Vegetable Products to Wipro Products
1980: The company entered the IT business
1982: Name of the company changed to Wipro
1983: Established software products and exports subsidiary, Wipro Systems Ltd
1985: Pioneers in marketing indigenous personal computers
1988: The company diversified in industrial cylinders and mobile hydraulic cylinders
1989: Wipro GE medical systems was set up to manufacture diagnostic and imaging products
1990: Wipro baby soft and santoor talcum launched
1991: Wipro fluid power division established
1995: Wipro overseas division set up, and Wipro Infotech and Wipro systems merged
1996: Shifted headquarters to Bengaluru, from Mumbai
1999: Wipro acquired Wipro Acer
2000: Wipro got listed in New York Stock Exchange
2002: Wipro becomes first Indian software company to get ISO certification
2002: Entered BPO business
2004: Wipro became a billion-dollar company
2008: The firm entered clean energy business through Wipro Eco Energy
2013: Wipro demerges its 'diversified business' into a separate company to be named 'Wipro Enterprises Ltd'. Wipro to focus exclusively on IT business
2015: Carved out Wipro digital business as a separate unit. Announced its intention to acquire Designit, global strategic design firm specialising in designing transformative product-service experiences
2016: Wipro acquires HealthPlan Services, a leading technology and business process as a service provider in the US health insurance market
Former Wipro CFO & director Suresh Senapaty on Azim Premji
"When you see an individual who has such a large ownership but is prepared to professionalise, you develop a respect and comfort with him.
The first thing that I like about him is the aspect of emphasis on integrity and ethics. Additionally, his professionalism is something I admire.
People say 'work hard and party harder', but Premji's concept is 'work hard and work harder'.
That's not only for us but he applies the same standard on himself.
And, this attitude is not just for the sake of working or spending long hours in office; it is for the excitement of work. Third, I admire his risk-taking ability. He wants to explore new things and look at things ahead of the curve."
Photograph: B Mathur/Reuters