'His working style differs from his father as he is a quick decision-maker.'
Debasis Mohapatra reports.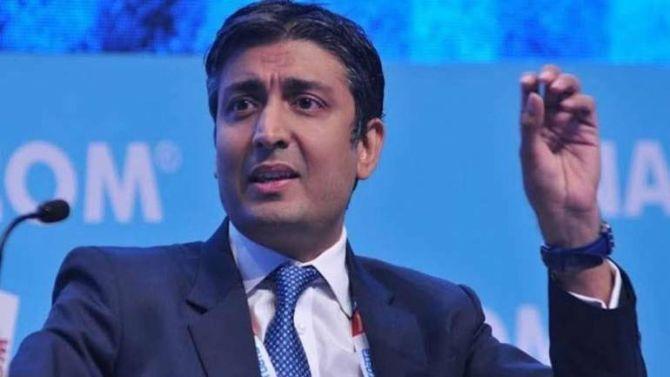 As Rishad Premji gets set to take on the mantle of Wipro chief, the IT services firm is likely to come up with some aggressive moves to get its growth momentum back in the coming quarters.
Experts said big bets were expected in the new technologies and the product and platform verticals.
Wipro was number three in the domestic IT pecking order for over a decade, but it lost that position to HCL Technologies in the last financial year.
Tepid revenue growth and continuing impact of business restructuring were the primary reasons behind the IT firm lagging its peers.
"Rishad will do a good job and the company has to do some hard work to find its positioning. Wipro has to develop deep domain expertise in areas such as health care, where it has an edge," says T V Mohandas Pai, former chief financial officer at Infosys.
"In technology, Wipro was the leader during the initial days but they lost it somewhere in between. So, under Rishad's leadership, the company will focus on these areas," adds Pai.
Wipro's revenue has been lagging its rivals for the past couple of quarters.
In FY19, market leader Tata Consultancy Services reported a revenue growth rate of 11.4%.
It was only 9% for Infosys.
HCL Technologies posted a revenue growth rate of 11.8%.
In comparison, Wipro's IT services revenue grew 5.4% in the the last financial year.
This trend was also reflected in incremental revenue terms -- Wipro added the least amount of incremental revenue at $60.1 million compared to HCL's $794 million, Infosys's $860 million, and TCS' $1.82 billion in FY19.
"Rishad Premji has been working closely with the management for the past 10 years and knows the company well. His working style also differs from his father as he is a quick decision-maker," says Pareekh Jain, an outsourcing advisor and founder of Pareekh Consulting.
"Given the current circumstances, he is likely to take some big bets in the digital services and product platform front to get back the growth momentum," Jain adds.
With a sound cash reserve position, Jain says the company could look at acquisitions in the digital technology space.
Analysts pointed out that given his experience of working as chief strategy officer, the likelihood of a big acquisition or buying of IPs in order to boost platform business seemed high.
In the past two years, Wipro faced headwinds on the growth front, owing to both macroeconomic and company specific factors.
For instance, the Bengaluru-headquartered firm had to deal with bankruptcies of two large clients in the communications and the energy and utilities verticals.
Similarly, the United States scrapping of the Patient Protection and Affordable Care Act, or Obamacare, also hit the IT services firm hard as it was a major focus area for Wipro through its subsidiary HealthPlan Services, which it acquired in 2016 for Rs 31.3 billion.
Among the macroeconomic factors, fall in crude oil prices affected its energy and utilities vertical, while migration of infrastructure management services to cloud brought some amount of disruption into its strongest service lines.
However, things have definitely stabilised for Wipro in the recent past, with the company witnessing growth revival in energy, natural resources and utilities vertical in FY19.
Signs of recovery are already visible in its biggest practice area -- cloud and infrastructure.
With the clinching of its largest outsourcing contract worth around $1.6 billion from Alight Solutions LLC, Wipro has already shown its capability in the large deal space.
"With the separation of the Indian unit from the IT services umbrella, apart from the realignment of other business units such as divestment of call centre business, Wipro has streamlined a lot of its operations," says Jain.
"For the new chairman, he has to only provide the strategic direction," Jain points out.
On June 6, Wipro announced that Rishad Premji would take over as the executive chairman from July 31 and re-designated Abidali Z Neemuchwala CEO and MD of the company.