'This is a crisis which did not happen overnight. It was happening slowly.'
'Now we are mining very fast and this crisis won't last long.'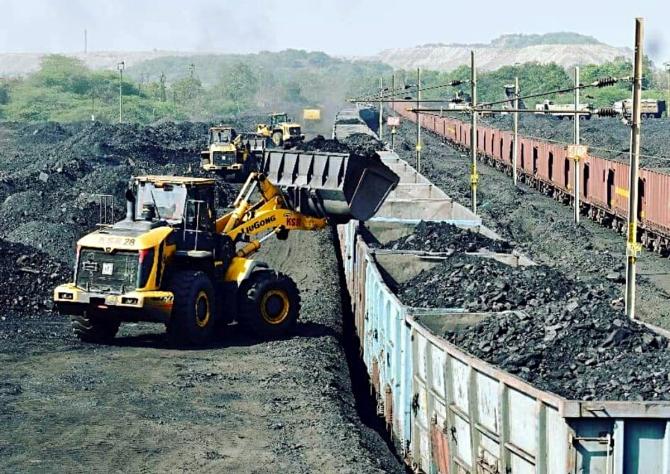 October is a month when there is hardly shortage of power in India, but this time the situation is alarming.
Opposition chief ministers complain there is not enough coal in their state power plants and warn that the nation will face huge power cuts.
The Narendra Damodardas Modi government on the other hand maintains that the situation is not worrisome and that the Opposition is creating a ruckus for no reason.
So, will India go into darkness in the coming weeks due to the non-availability of coal at power plants, or will the situation improve?
Syed Firdaus Ashraf/Rediff.com spoke to Sunil Dahiya at the Centre for Research on Energy and Clean Air to understand the problem.
Economics work on demand and supply and so are most of the goods in any market economy. So was the government not aware that there is less supply of coal to meet the demand for power in October?
Demand (of coal) has gone up slightly this year. Last year, due to the pandemic, the demand this time for power was not up. Therefore, there was an underestimation of power demand by power plants and the ministry of power, but that is not the exact reason for the crisis.
There was a peak demand for power in July and August this year. Our (coal) mining companies were sufficient enough to tackle this demand as we had peak supply of coal in March and April this year. Power plant stock (of coal) was sufficient for 15 days and in some plants for 45 days too in March and April.
And this stock does not deplete in a day. This stock depletes when the consumption is high and you buy less coal.
Now the question is, when this data is being monitored on a day-to-day basis by power companies and the power ministry, why was nothing done to ramp up coal production?
Therefore, this is a clear case of mismanagement and lack of foresightedness on the part of power plants, the ministry of power and the Government of India. There is no resource crunch as we have mining capacity and capabilities.
Does it mean that we did not mine more coal at the right time to ensure surplus of coal for power companies? Was the government caught napping?
In July and August you cannot mine because of the monsoon, but this phenomenon is every year. Every year we plan where we can mine in the monsoon, even if we can supply less coal to power plants, we do with various limitations.
What happened this year, power plants could have stocked up coal to a decent level quantity during the monsoon.
Secondly, as far as mining is concerned, even after the rains stopped two weeks ago (we did not mine).
Coal India mines 40-45 million tonnes of coal in one month whereas they mined 80-85 million tonnes in March. This means technically Coal India can ramp up mining very fast.
Will the power crisis continue? The Government of India is very confident that it can sail through this crisis.
The power crisis will not last long. This is a crisis which did not happen overnight. It was happening slowly. Now we are mining very fast and this crisis won't last long.
Within a couple of weeks, we will get to a normal solution provided the government works on it.
Have we seen a coal crisis and a shortage of power in October in the past?
In October our power demand reduces compared to July and August because of a cooler climate. During the monsoon coal stock at power plants depletes because we cannot mine much. In October mining picks up and power demands goes down so we do not go into such a situation.
Last year, we had an average of 9-10 days of stock left in September. After that we managed to get coal storage for 30 days to our power plants across India.
The situation always improves as stock is available at power plants by October. Therefore, the government is very confident it will be able to overcome this crisis in a couple of weeks.
Reports suggested that we are falling short of coal stocks and we should open up new coal mines.
This is a false narrative. There is no resource crunch of coal in India. We have more than enough mining capacities. We can fulfill demand in India for power plants now and for the next few years.
If you open more coal mines it will destroy the environment, human health, forests and wildlife.
Secondly, it will lock money into such assets which will never be utilised. It will turn into non-performing assets in the mining sector, similar to what happened in power generation sector in the last one decade. Therefore, you must categorically say there is no resource crunch (of coal).
High coal prices in the international markets have led to an increase in the price of coal, leading to power shortages. Is that true?
We are consuming 600 million tonnes of coal in India annually for power generation. Out of which only 50-60 million tonnes come from the international market. There are few power plants which are totally dependent on coal from the international market like Indonesia or partly dependent on it.
In India, Coal India Limited has 60 million tonnes of coal at different mines at any given point of time. This can resolve the issue.
Even if international coal is imported, it does not come in a day or two. It also shows that if you have not planned for local coal to be made available at power plants, how do you imagine to send international coal to power plants?
After all, you do not need 50 million tonnes of imported coal in a month, you just need 3-4 million tonnes in a month at maximum level.
Do you feel the government failed because it did not expect economic activity to pick up so fast? Demand rose all of a sudden and they were caught off guard?
Economic activity did pick up in India post Covid in June-July 2021. The highest ever demand for power was on July 7. The power demand hit an all-time high of 200.57 GW that day.
There was overall 16 percent more demand for electricity in July and we could have started planning right then for coal and power generation for the coming months. We didn't do that.
Therefore, to say that in October power demand has gone up due to the sudden activity in the economy is wrong.
October is just seeing economic activity and demand for power is on upswing like in June, July and August. There is continuity.
What should the government have done in July?
Before July the government should have put in more orders for coal to power plants through Coal India Limited before stocks started depleting to a 15-day low level at different power plants. They should have put in more orders to Coal India Limited.
They should have done a little bit mining and a little bit more dispatch of coal to power plants from CIL.
There could have been more of reshuffling of coal to power plants (which are facing a shortage now) from a mine or another subsidiary which was generally never supplied coal to them.
Anil Swarup, the former coal secretary, has said it in a very nice way here (external link). It was (all about) managing the coal resources in power plants. This was entire mismanagement of resource distribution.