'We are expecting lower levels in the week beginning March 1.'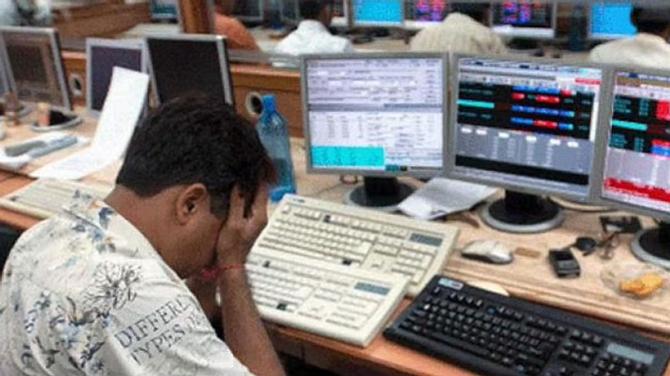 Sameet Chavan, chief analyst and technical and derivatives, at Angel Broking, looks at the levels to watch out for in the week beginning March 1.
"Fridays selloff was a bit unexpected, but you must know that the markets correct the sharpest when it is least expected by the masses," Chavan tells Prsanna D Zore/Rediff.com explaining how retail investors and day-traders get trapped by those with deep pockets.
How do you think the markets will perform in the week ahead?
Honestly speaking, at the start of the week beginning February 22, we were a bit cautious; we were expecting lower levels.
But what happened during the week is we witnessed a sharp recovery in the midst of the week (Wednesday, February 24, the day NSE witnessed a glitch and trading was halted from 11.40 am; the Nifty jumped 1.86 per cent or 274 points that day).
While this did dent our cautious stance, we were keeping a close eye on 15,200-mark.
If our cautious stance had to negate, Nifty had to surpass 15,200-level in the course of the week gone by. Fortunately, this did not happen and on Thursday, February 25, we saw the Nifty correcting (falling) from a high of 15,171.
The 15,200 level still remains a hurdle and after Friday's selloff we would continue with sell-on-rise approach.
We are expecting lower levels in the week beginning March 1.
Any key levels to watch out for?
As far as levels are concerned 14,200 to 14,000 are the two key levels to watch out for (on the downside; the Nifty closed around 14,529 on Friday, February 26) in the immediate term.
We might see these levels in the forthcoming week itself.
14,200-14,000 is now merely two to three per cent from Friday's closing level.
According to us, 14,000 is the major support level for Nifty (the Nifty may not go below 14,000 easily) at least in the near term.
Looking at the overall setup, there is a slight probability that we might slide below 14,000 as well. But given that 14,000 is a crucial level we would rather assess the situation when Nifty comes to that level.
Our bias would still remain cautious (avoid buying as further fall is expected); once the Nifty slides below 14,000-level, it opens room for another 400-500 point fall.
Would FIIs continue their selling spree in the weeks ahead?
They had been selling small quantities since the beginning of the week (from February 22; they sold shares worth Rs 8,295 crore on Friday).
Broadly speaking, we have seen a relentless move (in the upward direction) in the last four months without any major correction. In between, we did witness a five to seven per cent correction but it can't be called a major correction.
There is a possibility of that major correction happening in the forthcoming days.
Where is this major correction likely to halt?
It is a very difficult prediction to make. One has to go one step at a time.
Immediate target is 14,000; once it reaches there and slides below this level then it opens itself to 13,500-13,600 levels.
Since the larger trend is still bullish, one has to take corrections one step at a time.
Were you expecting such an intense selloff on Friday? Did the markets hit the panic button on Friday?
If it had come before Wednesday (February 24), we would have claimed that it was very much expected. Fridays selloff was a bit unexpected but you must know that the markets correct the sharpest when it is least expected by the masses.
Practically speaking, our sense is that in the middle of the week we witnessed a minor correction (fall) and then a pullback (on February 24, the day the NSE faced the glitch).
What could have happened is that after Thursday's expiry (February 25; the options have weekly expiry), most of the shorts from the retail side would have been out of the system perhaps being carried away by the rally they saw on February 24, especially when Nifty resumed trading at 3.45 pm and on February 25 when the markets gapped up more tha 200 points and that was a move to trap weak longs (especially retail investors who bought on Wednesday and Thursday).
Whenever the market is light on retail shorts and is long-heavy (when retail investors buy big expecting the markets to move higher) there are always chances of sharp corrections.
Do you think next week we will be back to where we were when the markets opened for trade on February 2, the day after 650-point rally on Budget day?
It is quite likely that the gap (the Nifty closed trading on February 1 after the budget announcement at 14,280; the next day on February 2, the Nifty opened at 14481, a jump of 200 points from its close previous day; this 200-point is the gap up) at one saw a day after the Budget (February 1) will get filled.
What would be your advice to investors given the turmoil in Indian as well as global equity markets?
Technically speaking, for the first time in the recent past we have witnessed a lot of lower-bottom formation on daily charts.
With Friday's correction below 14,635, which was the low created on Wednesday, February 24; this was the first sign of weakness indicating the short-term tide has turned downwards.
Short-term traders should avoid aggressive longs.
Any bounce back, say around 300-400 points jump, should be used to lighten up long positions.
Probably, one can go short as well keeping in mind the level of 15,200.
If our view has to negate in the medium term, Nifty has to surpass 15,200.
Photograph: PTI Photo